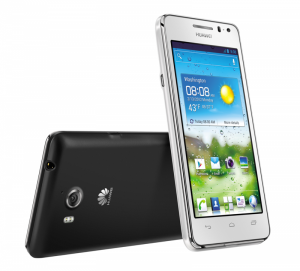 The mid-range smartphone market is heating up. Along with the new Window 8-powered, mid-range devices from Nokia, plus last year's still-popular BlackBerry unites, there are about half-a-dozen Android-powered phones that fit nicely into the bang-for-your-buck segment. And by the looks of things, Huawei is bringing the fire.
The big players like Samsung, LG and Sony all offer decent smartphones for a good price. These might not be flagship Android units, but there's nothing whatsoever wrong with them if you're a buyer looking for "just enough" from your phone. Huawei, however, wants to give buyers more than "just enough" for the same price with its Ascend G600.
Essentially a more premium version of the highly regarded budget Ascend G300, the G600 packs a 1.2GHz, dual-core processor, a tidy 4.5-inch display and a hefty 1,930 mAh battery.
In fact, if the battery alone were the main selling point of this phone, it'd make a good case for itself, because it offers, Huawei claims, 360 hours of standby time and roughly eight hours of talk time. In the real world, with moderate Internet usage, you'll get about a day and a half –which is better than anything the likes of Samsung, LG and Sony can throw at you for this price.
Anyway, the G600 packs plenty more than a hefty battery to scare rivals away. You get NFC, 768 MB of RAM, and a very capable 8.0-megapixel camera, too. Admittedly, some of Huawei's competitors do offer all of this on their mid-range models, but plenty of them don't.
What's more, the G600's Internet browser offers HTML5 support, scoring 312 out of 500 on the HTML5 speed test. That's not a mind-blowing test score, but it's certainly not bad when you compare it to everything else on the market at this price. The fact that it ships with Android 4.0 Ice Cream Sandwich, rather than Gingerbread, as many competitors still do, also puts the G600 ahead.
To live with every day, the G600 is not all that dissimilar to any other Android phone. The lock screen is excellent, featuring four points around a circle, on which you can put your most-used apps, launching them straight from lock. And the screen's auto-brightness function is far less dim-witted than many of its competitors – all too many phones are impossible to read when you're outside during the day, and completely blinding when you're in a dark room.
To hold for long periods of time, the G600 is actually a little heavy. In all truth, the device's weight does add an air of quality to the package, making it feel sturdy and durable, but you'll definitely feel the strain on your arm after a 20-minute phone conversation. Personally, I'd prefer a lighter device rather than a superficial air of quality – this is a mid-range phone, after all, so you know that you're not getting a flagship from the off.
What's more, it's not a particularly good-looking phone. Sure, there's nothing hideous about it, but its styling seems somewhat dated – it's just a black slab with a screen planted in the middle. Sony will sell you a beautiful Xperia smartphone for a similar price, and LG's recent 'droids aren't bad looking, either. If you want a fashion statement, the G600 ain't for you.
And if we're nitpicking – which I am – the G600's keyboard doesn't seem as ergonomically refined as what you'll find on a Sony or Samsung. It takes some getting used to, and while you do eventually get used to it, it's still annoying when the button to bring up numbers and symbols switches sides when you want to bring up the letters again.
My only other complaint comes with the quality of the hands-free set that comes in the box. Other manufacturers will give you much better headphones, negating the need for you to search elsewhere for a decent pair. Huawei, on the other hand, seems to assume that G600 customers aren't all that bothered about personal sound quality.
All told, though, I can't fault the Ascend G600 for much else. If you're unbothered about the styling, this Huawei is a solid mid-range purchase, because it really does give you more than "just enough".