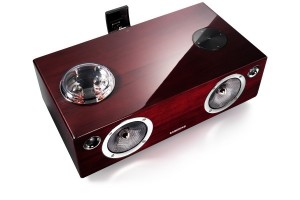 Samsung might just be the top tech brand of the moment. Sure, its range is diluted by some mid-level to budget products, which, while offering value for money, aren't huge headline-grabbers. But at the top end, the brand seems to excel in every segment it touches.
Take a look at its range of high-end smartphones, for example, or else the brand's top-of-the-range LED TVs. Or you could look, as we have, to the DA-E750 Wireless Speaker Dock.
This dock sets itself apart from the competition in two ways. Firstly, it is, Samsung claims, the first wireless speaker dock that supports both Android and Apple devices, and secondly, this particular model is powered by vacuum tube amplifier technology, providing a much warmer sound that what lesser speakers offer.
On the first point, the device certainly works well. There's a pop-out compartment at the back of the speaker with two separate docks. One is the standard 30-pin connector for most iDevices, and the other is a Micro USB slot, which, presumably, is best used with the Galaxy range of smartphones.
Both docks charge whatever device is plugged into them, though users cannot play music via the micro USB slot. For that, it's necessary to either plug into the mini jack input at the back, or else the standard USB socket.
Alternatively, users can set the device up with Bluetooth, which is incredibly easy with most devices. Android users can also download the Samsung Wireless Audio Dock app, though it's difficult to see the advantage that it holds over the standard Android music player.
iDevice owners might not have access to the app, but they can make use of the dock's AirPlay functions. Users need to plug the device into your home's router via an Ethernet cable before setting AirPlay up, but once it's plugged in, it's as easy as anything to set up, and it provides better sound quality than streaming over Bluetooth. Of course, playing through a physical wire will provide the best sound quality, but AirPlay works well enough that casual listeners won't be able to tell the difference.
In terms of sound quality, this is right up there with anything from Bose, Bowers & Wilkins or Harman Kardon. The high frequencies are smooth rather than harsh, and the unit's subwoofer adds depth without becoming overpowering. The speaker is also extremely attractive with its polished-wood looks, which have become a major talking point among audiophiles.
All in all, this is yet another big hit from Samsung.