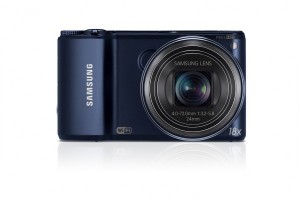 The compact camera's role in the consumer technology mix has changed significantly since the smartphone came to prominence. Given most smartphones have pretty good cameras on them – good enough for most, it anyway – and pretty much everyone has a smartphone, the compact camera has largely been forgotten about.
That's why vendors have to offer something unique with their compact cameras these days. What's more, they can't make their compact cameras too expensive, either – the target audience is people who want a little more photography power than their phones offer but who don't want to pay too much for it.
And with the WB250F Smart Camera, Samsung seems to have hit that nail right on the head. At Dh849, it certainly does well to keep down on price – we've seen point-and-shoot cameras that go for as much as mid-range smartphones, despite offering little more in terms of photographic mettle.
And on the feature front, the WB250F would blow any smartphone camera out of the water – even the Nokia PureView's mad but fantastic 41-megapixel unit. What's more, you get Wi-Fi connectivity for easy sharing to your social networks. Indeed, Samsung is way ahead of competitors like Canon in that aspect, and it's heartening to see the same sharing features spread out across the entire range.
Anyway, in terms of its capabilities, the WB250F offers a 14-megapixel, backside-illuminated CMOS sensor and an extremely handy 18x zoom lens. You also get a great touchscreen and all manner of creative shooting modes. While those aren't the best stats, the Wi-Fi capabilities give the WB250F a considerable advantage over rivals from the get-go. If you're looking for something with the biggest megapixel count, this isn't the camera for you anyway.
Samsung seems to have realised this, and has gone heavy on features instead of focusing – excuse the pun – on photo quality. It's pretty good up to ISO 400, but anything above starts to look a little soft, and colours begin to lose their vibrancy above ISO 800. If you're consistently going above that mark, you need to invest in a more expensive camera or else you might as well be using your phone.
That said, your phone won't have the very decent flash that the 250F sports. The unit can be angled up, meaning your night-time portrait shots don't have to result in ghostly white faces all the time. Again, your pictures won't look like masterpieces from a photography gallery, but they'll be a darn sight better than your phone's efforts. What's more, if all you want to do is stick the photos up on Facebook, they'll look great – it's only when you expand them that you really begin to see issues.
The same goes for video quality, which is really very good on this camera. You get a little bit of ghosting if your subjects are moving around quickly, and the anti-shake function isn't the best, but on the whole, you can shoot some pretty decent videos with the 250F. What's particularly impressive is how quickly it can adapt to changing lighting conditions.
The other features are all pretty much par for the course – you can have a little fun with the creative shooting modes, and the touchscreen allows you to choose where in the shot you'd like to focus. This means you can create all manner of "artsy" shots – but then again, you can do that with a lot of other cameras, too.
The upshot is that, if you want something a little more capable than your smartphone camera, and you don't want to pay much for it, you won't go wrong with the WB250F. It's inexpensive and capable, doing more than it rightly should for the price.
RATING – 8/10