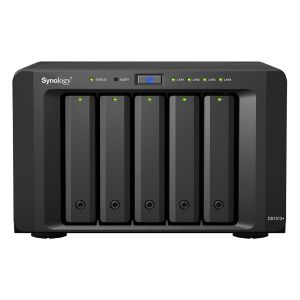 It isn't often that a single product can nail two distinctly different categories so well. Yet this is something that the Synology DiskStation DS1513+ has managed to do beautifully.
On the one hand, it's a powerful five-bay NAS that's ideal for small and medium-sized businesses with serious storage needs. On the other, it's a well-priced and easy-to-use server, making it a great choice for advanced home users, too.
This, then, is a device built for both general consumers and small businesses, and it's a wonder how well it can please both segments.
From a business perspective, the cost benefits are easy to see. With a retail price of less than $1,000—no storage included—the server offers space for five hard drives, stellar performance and a ton of useful features and applications. To be fair, these advanced features aren't particularly user-friendly, but any IT pro will be able to wade through the setting-up phase to configure everything. After that, the DS1513+ runs like a dream.
What's more, aside from the advanced features, this device is incredibly easy to set up—you don't even need screws. Each drive bay has a mechanism that holds the hard drives in a tray. There's also a lock on each bay to prevent people from accidentally pulling out the drives. It's beautifully simple and very clever.
Once you've got the drives in place, you can open yourself up to a maximum of 20TB of space (given the current generation of hard drives max out at 4TB each). That said, if your business is really, really hard up for digital space, it is possible to connect the server with up to two Synology DX510 extension units, each of which can hold up to 20TB themselves. They're run through two eSATA ports that Synology says are designed to provide the same throughput as you'd get with a drive housed in the server itself. You can also add more hard drives via the server's two USB 3.0 ports and four USB 2.0 ports on the back. That's another 24TB at your disposal if you so wish.
Potentially, then, this device can serve up to 84TB, which is a monumental amount of space even for a fairly large SMB. And if you don't need to plug hard drives into the USB ports, they're very useful in that you can use them to connect printers, Wi-Fi dongles or even TV tuner adaptors.
When it comes to running the server, the DS1513+ supports all standard RAID configurations. What's more impressive, though, is that it supports Synology Hybrid RAID. This allows users to dynamically scale up the device's storage space without having to rebuild RAID from scratch. It also means you can use hard drives of different capacities in the same RAID set-up—the technology balances performance, storage space and data protection depending on how many drives you're using. It's also mighty quick—Hybrid RAID takes just minutes to rebuild a RAID set-up, as opposed to hours.
Speaking of speed, the DS1513+ also comes with four Gigabit Ethernet ports. You only need one, but if you have more ports, you get better load balancing and more redundancy. And if you use a support switch, you get seriously fast performance.
None of this detracts from the fact that it's seriously easy to set simple storage up, meaning that it's also great for home use. Synology has taken a plug-and-play mentality to building the DS1513+, and though you need to know a little bit when it comes to the advanced features, almost anyone could set the server up and start using it.
Given how much performance this device offers, it's difficult to think of another NAS that gives users such value for money. This is a high-end bit of kit, yet it's priced for a mid-market audience, and that makes it the bargain of the year.
This device was lent to Reseller ME for review by Pinnacle Computer Systems Dubai.