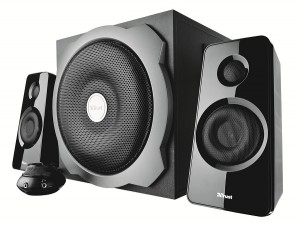 Dutch accessories maker Trust has just entered the Middle Eastern market. It makes everything from styluses and iPad covers to computer mice and screen covers, though the star of its current portfolio is the Tytan 2.1 Subwoofer Speaker Set.
With a recommended retail price of just Dh369, it'll certainly push the right buttons for anyone who's thrifty with their technology. However, I've always been wary of inexpensive 2.1 speaker systems, as they generally work well for about two weeks and then proceed to fall to pieces.
I've been pleasantly surprised with the Tytan so far, however, having had my hands on it for more than a month now. While it's billed as a sort of super speaker set for computers, I've actually been using it as a home entertainment system – it really is that good.
The two speakers and subwoofer combined provide a total RMS power output of 60 watts, with a peak power of 120 watts. This means they're certainly loud enough to be used for home entertainment in generously sized living room. What's more, the wooden make-up of the subwoofer helps to provide a high-quality and deep bass sound. The two satellite speakers, meanwhile, offer up good mid-level and high tones.
Setting up is a breeze, as it is with any 2.1 speaker set. You simply plug all the leads where they're meant to go, and then plug the included mini-Jack into whatever you want to use as a source. Volume controls are found on the side of the subwoofer, where you can adjust the overall volume as well as the bass volume.
Herein lies a problem shared with pretty much every 2.1 speaker set around. Depending on the room you're in, what kind of media you're playing, or about a hundred other factors, it can be hugely difficult to get the bass levels right. I've settled on setting the bass knob to about three-quarters full, but this setting won't work for everyone.
Once you do have the levels set, though, the Tytan's wired volume control comes in extra handy. A sleek, good-looking knob connected to the subwoofer, it's an elegant little addition that allows you to make quick changes to the overall volume.
Quality seems to be no issue whatsoever. In the month or so of use I've had out of the Tytan, the set has developed no rattles, and sound quality isn't compromised when turning the volume up to full.
I'm not for one second saying, however, that this could be a rival to something from Bose or Bang & Olufsen, for example. Those high-end speaker sets are for proper audiophiles looking for sonic perfection. But someone who just needs a little volume for a small amount of money needs look no further than the Tytan.
Harold Huizing, Group Commercial Director, Trust, recently told me that any consumer electronics retailer who doesn't take on the Tytan is crazy. And I have to say I completely agree with him. The amount that the Tytan delivers at this price point makes it one of the most capable speaker sets on the market today.