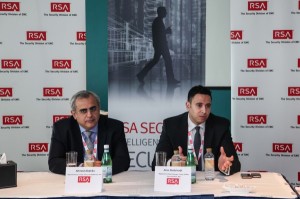 RSA, the security division of EMC, yesterday hosted its Security Summit, a one day security conference in Dubai aimed at helping organisations address evolving, complex and sensitive security challenges.  
The Summit, held at the Jumeirah Beach Hotel brought together an audience of senior security professionals from the IT industry, including Chief Security Officers, Compliance and Risk Managers, CIOs, and IT Directors to highlight the emerging trends in the space of cyber security.
RSA hoped to frame how organisations could help build an element of 'trust' in their IT organisations  and highlight the need to ramp up their team's ability to face the unknown threats and ensure data protection and mitigation of the risk of an attack.
The adoption of third platform technologies such as cloud computing, Big Data, social networking and mobile devices to help enterprises achieve their IT and business transformation goals depends on a foundation of trust, and the organisation's ability to secure their cloud environment, RSA said.
Alaa Abdulnabi, Regional Pre-Sales Manager, Turkey, Emerging Africa and Middle East, RSA, said, "Security issues in this day and age have to be framed in a proactive versus reactive context. Nowadays we are seeing an average of 60-70 percent being spent by organisations on preventative security, and only 10 percent on detection methods. This is indicative of the age we live in, where breaches are inevitable."
The summit featured presentations from senior RSA executives and security experts which highlighted the need to harness Big Data Analytics to leverage the benefits of a transformational security monitoring and investigative solution. The subject follows from a recent survey conducted by EMC found that 67% of respondents in the UAE agree that Big Data technology will prove vital in identifying and protecting against cyber-attacks while only 66% of respondents in the UAE were confident of their ability to fully recover all their data should they have need to.
Ahmed Abdella, Regional Manager, Turkey, Emerging Africa & Middle East, RSA, said, "One of our key aims in hosting this summit has been to get through to our partners. Legitimate businesses are very reluctant to share information about the attacks they have experienced, but with open communication progress can be achieved."