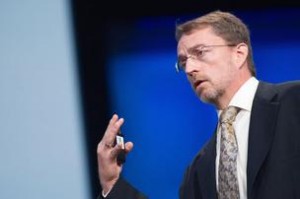 VMware is reportedly preparing a public cloud offering that it would run itself, however VMware officials have refused to comment on the rumours – sort of.
Late last week, the company's vCloud Director Twitter account announced the news of a public cloud offering, then the tweet was rather quickly deleted. CRN first reported the news and has a screenshot of the tweet before it was erased.
Whether VMware actually will launch a public cloud is still up in the air, but various media outlets have reported the company's plans, and another found customers who have been part of a beta program from VMware.
Stuart Miniman, an analyst at the Wikibon Project, which tracks VMware, says he's heard the rumours about a VMware public cloud and, if true, they would make sense. VMware's strategy in the past has been to mostly work through partners for public cloud offerings, but he says that has been somewhat disappointing for the company because it has not gained the market traction the company had hoped. That creates an opportunity for VMware to launch its own public cloud, pitching it as a market alternative, and still have an ecosystem of partners with their own clouds as well.
The infrastructure as a service (IaaS) market is already packed with a variety of providers, though, most notably Amazon Web Services, along with a bevy of competitors like Rackspace, Joyent, Terremark, HP, Google and Savvis, just to name a few.
Even though the IaaS market is fairly crowded, Miniman says there's still room for VMware to hop in if it wants to. "It's a maturing market, but it's still growing," Miniman says about IaaS offerings. "There are a ton of solutions, but we're still relatively early on."
Perhaps adding fuel to the competitive IaaS market fire was VMware's CEO, Pat Gelsinger, who earlier this month at the company's Partner Exchange Event said that customers, and VMware, "lose" when workloads are placed in Amazon's cloud.
For a company that has been marketing itself as being more open to working with competitors and non-VMware environments, those seem like some fighting words.