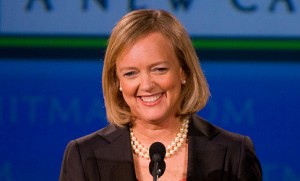 In an effort to assure concerned users and investors that it is working to put past distractions aside, struggling Hewlett-Packard has taken several steps this year to bolster its full product line.
This has come hand-in-hand with a number of very public claims from senior officials at the company.
In an earnings call last month, CEO Meg Whitman dismissed persistent rumours of plans to sell off parts of the company. "We have no plans to break up," she said.
She argued that PCs and other desktop devices are still key pieces of enterprise computing, HP's strength, and contended that it's important for the company to maintain its expertise in those technologies.
Whitman acknowledged that "it's going to take time to get back on track," but touted new HP hardware technology and its "multiple operating systems" designed for enterprise use.
HP used the Mobile World Congress stage to announce the latest move in its effort to bolster its PC unit – the introduction of the Slate 7 tablet. A seven-inch, Android-based device that features dual cameras and a micro-SD card slot, the Slate 7 sells for $169.
Separately, HP announced Project Moonshot, an effort to design low-power server technologies that, if successful, could enable data centres to use 89 percent less energy than they would with traditional x86 servers.
Still, HP faces a difficult task. It has reported declining profits and revenue for six quarters, as it continues to try to rebound from a period of turmoil that saw two leadership changes within a year and a botched plan to spin off its PC division.