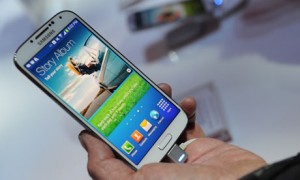 The Samsung Galaxy S4 has officially landed in the UAE, following an exclusive press evening last night at the Burj Khalifa, and will be available to consumers from April 27.
Samsung's Head of Telecommunications Group, Hayssam Yassine, addressed a packed out crowd inside the Armani Ballroom, offering a preview at a selected number of new features on the smartphone.
Among many new features, Samsung demonstrated the new Translator app – an application which can detect up to 10 languages and relay the audio back to you in another language. A very interesting feature which relates to the slogan 'a life companion' which Samsung promoted all night.
Speaking exclusively to CNME, Yassine said that the smartphone was a 'quantum leap' in terms of evolution from the previous model – the S3.
"This is slimmer (79.mm), has a wider screen, and is lighter (130g), yet the battery life has been increased significantly," he said.
"With the launch of the Galaxy S4, Samsung is continuing to enhance the way that people live by offering the best-in-class hardware and the most advanced software to provide a true life companion for consumers in the region."
The Galaxy S4 boasts the world's first Full HD Super AMOLED display to showcase images at their very best. Its 5-inch large screen has 441ppi for improved viewing quality, and it also utilises Corning's new Gorilla Glass 3, making it a more durable and sturdy device than its predecessor.
Equipped with a 13 megapixel rear camera, the Galaxy S4 also boasts a 'Dual Camera' function that allows simultaneous use of both front and rear cameras. At the same time, the 'Dual Video Call' function enables you to make and receive a video call with friends and family while showing what you are looking at during the call.
The camera functionality extends beyond Dual Camera, as the device is also equipped with 12 shooting modes including 'Drama Shot', which allows you to see all the action in one continuous time-lapse, and 'Sound & Shot', which uniquely stores sound and voice together as the picture is taken so those special moments are captured in the truest form imaginable, exactly as they happened.
With its 'Group Play' function, users can enjoy music, photos, documents and games with those around them without even requiring Wi-Fi or cellular signal. This innovative feature enables users to connect directly with others to share, play and co-create content and entertainment instantly. Its 'Share Music' option allows users to have the same song playing on multiple phones in sync to create the best party atmosphere.
The Galaxy S4 supports HSPA+42 Mbps and 4G LTE which means wherever you are in the world, you can rely on good connectivity.
'Samsung Smart Pause' enables you to control the screen by where you look. When you are watching a video, the video pauses when you look away then it starts right up again when you are back. 'Samsung Smart Scroll' allows you to scroll the browser or emails up and down without touching the screen. It recognises your face looking at the screen and movement of your wrist and then scroll the pages up or down accordingly.
'Air View' allows users to hover with their fingers to preview the content of an email, S Planner, image gallery or video without having to open it. You can even see a magnified view on the internet browser, or a phone number saved in the speed dial on the keypad. With 'Air Gesture', you can change the music track, scroll up and down a web page, or accept a call with a wave of your hand.
With 'S VoiceDrive' you can activate commands via voice control for optimisation when driving. Once connected with a car Bluetooth, the phone automatically turns into driving mode converting text to speech so you can easily and safely check messages with no need to look at the screen.
'Samsung Optical Reader' makes life yet more effortless, by automatically recognising text, a business card or QR code information, and providing useful functions such as translation, call, text message and search.
At home, using 'Samsung WatchON', the Galaxy S4 will transform into an IR remote to control your home entertainment system including TV, set-top box, DVD player and even air conditioner.
Empowered Living – Takes Care Of Your Health and Quality of Life
The S4 empowers your life by keeping you up-to-date with health and wellbeing information using the new 'S Health' software. The combination of sensors built within the device systematically and automatically monitors your health, surroundings and so much more to help improve your quality of life. Also, users can easily check their health conditions using food diary, exercise diary and sleep monitor to stay fit and healthy. (Certain functions are enabled by specific accessories.)
Samsung GALAXY S 4 (3G) will be available in all major retail outlets in the UAE for 2,599 AED and the LTE version will be announced later.