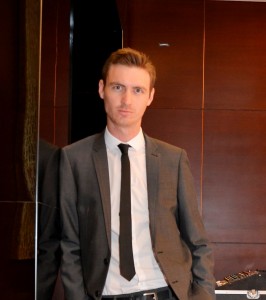 Last night I wasted an entire evening being part of some kind of poorly rehearsed pantomime. Yes, the Samsung Galaxy S4 press launch.
We begin back inside the very beautiful and classy Armani Ballroom, below the Burj Khalifa, where CNME has previously witnessed the launch of products such as Windows 8, and the new BlackBerry OS. These two impeccably executed events gave the Samsung crew something to beat… And allow me to end the suspense – they didn't.
When BlackBerry simultaneously launched its new Z10 and Q10 smartphones via live video link in six different cities, I was very impressed. Heins was in New York, and we were over seven thousand miles away in the UAE, yet, as a spectacle, it was a brilliant event. Heins and his gang knew the new OS inside out and presented it with professionalism and a slick rhythm that was truly engaging.
However, last night, Samsung chose a Korean/Arabic comedian to present its new product to the Middle East. Though highly enthusiastic – to say the least – our presenter spent the majority of the evening making awkward jokes and dancing to 'Gangnam Style' – while I spent the majority of the night wondering what on earth was going on. Neither of us spent the majority of the night discussing the S4.
After a lengthy thought process, I concluded that he was like Ant and Dec, and Kermit the Frog all moulded into one, with a cherry on top – far too happy for a work night. For the sake of this article, we shall call him Muppet.
But this isn't a crucifixion of the event itself, it was passable, this is in fact about the non-event which is the Galaxy S4.
The Galaxy S4 was described to me, by the head of the telecommunications group, as a quantum leap from the S3 – but I couldn't see how.
Yes, there does happen to be some minor signs of innovation for this phone – not that we were able to fully enjoy them; we were busy watching Muppet running around the venue flirting with local journalists from the audience.
Let me outline some features that I quite liked the look of (though we only saw a few, and none that were of any importance such as business apps, keyboard, ease of use, etc.) Firstly, the Translator app is superb. I had the pleasure of testing this out with the head of telecommunications during the event. You can speak into the phone, it analyses what you've said, and then it relays that sentence to you in your desired language. It includes ten languages, I believe – and it works. I know so, because I told it that my mother was small, apparently, in German.
This application is not just another fancy addition to the phone – if you travel a lot, as I do, then it's extremely handy and educational. It's a vocational course, available in real-time situations. I was suitably impressed.
Samsung also ticked another one of my 'grumpy old man' boxes with the transparent cover addition. It's so simple – a cover which protects the phone but still displays the time, date, any incoming call, or any message/email received, as well as allowing you to answer calls without removing the cover – simple and effective.
But, having said all of the above, the Samsung Galaxy S4 is nothing to throw a party over. And it's funny I should say that. Pointless, complicated application number one: Group Play. This particular application (among others) is everything that is wrong with the S4. Play audio through your S4, sync that S4 to up to eight other S4 devices, play the same audio through eight devices at once.
This application received heavy mention, as well as an inspirational (cheesy) video. Muppet explained to us that this was the perfect party app. Allow your friends to project the same audio as you in a closed circle – party on. Let me tell you this now – if I ever find myself at an eight man party with no record player – I'll be using my S4 to call a cab.
As well as this ridiculously pointless app, which I feel perfectly sums up the Samsung device – a children's toy with a decent camera – there were a few more irritatingly smug additions which I would never use. The Galaxy S4 makes me feel awkward. It's like when your father gets highlighted tips and new trainers to try and be trendier – it just upsets you.
After the press conference, we were given the chance to have a little play of the new device. First impressions – the screen is ridiculously complicated. It has far too many slides, it's too busy, and it's not at all smooth or intuitive.
The Galaxy S series is a very impressive smartphone series indeed – we know this. This is why I'm coming down so hard on the S4 – because we expected so much more. Samsung has been superbly innovative over the past few years (with the help of Apple (just a joke)) and I was hoping to be blown away last night – I wasn't.
This, of course, is purely my opinion. But for the asking price of this model, the S3 isn't a 'quantum leap' behind – it just doesn't teach you another language.