It comes as no surprise to hear that when faced with yet another enhancement in robotics and artificial intelligence that Elon Musk publicly shuddered with fear at the potential long-term consequences of such a development.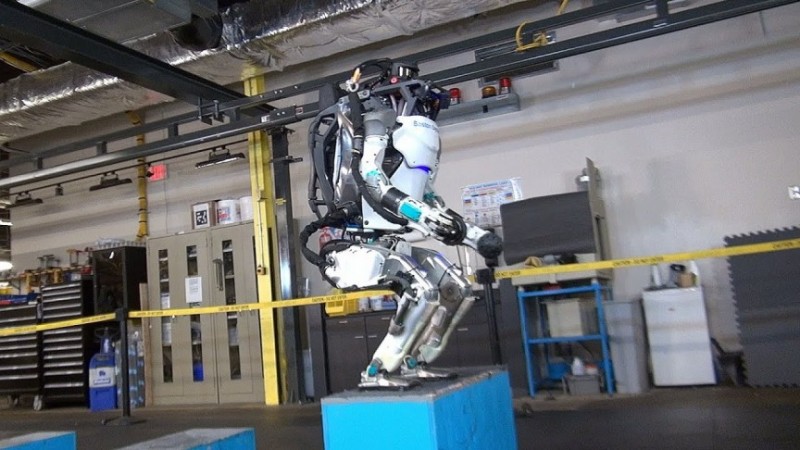 Boston Dynamics' 'Atlas', a 6"9 tall transformer-style creation weighing 76kg, has been off the radar since Alphabet sold the robotics firm to SoftBank back in June. Just last year, the humanoid bot was the subject of ridicule at the 'Robo Olympics' in the US, which saw it consistently falling over and eventually needing a crane to get back on its feet.
But as the old saying goes, 'practice makes perfect,' and Atlas has clearly been working hard to refine its abilities. It was recently spotted box-jumping and back-flipping like Tokyo 2020 had come early, even attempting to perfect the Olympic-style landing finish with just a slight waiver and its arms in the air for extra balance.
This is nothing. In a few years, that bot will move so fast you'll need a strobe light to see it. Sweet dreams… https://t.co/0MYNixQXMw

— Elon Musk (@elonmusk) November 26, 2017
The video went viral after it was captioned "we dead" in a tweet by Vox Media's brand designer Alex Medina, before it caught the eye of the SpaceX CEO. Musk then replied, "This is nothing. In a few years, that bot will move so fast you'll need a strobe light to see it. Sweet dreams…"
He later added, "Got to regulate AI/robotics like we do food, drugs, aircraft and cars. Public risks require public oversight. Getting rid of the FAA won't make flying safer. They're there for good reason."
Of course, Musk is no stranger to voicing his reservations around the use of artificial intelligence, and recently quantified these worries in an interview with Rolling Stone, when the tech luminary claimed we have only a "5-10 percent chance of success" at making AI safe.
And while experts query whether the rise of robotics will signify any real risk to humanity as things stand, I was hardly reassured when the creator of Sophia – Saudi's humanoid robot citizen – declared that "The Terminator scenario may still prevail," at the Knowledge Summit last week.
As a robotics pioneer, David Hanson was the last person I expected to question the motives of these creations in turning against their human counterparts – a possibility he justified by simply affirming that there are "unintentional consequences" to every technology.
But hang in there humanity. Watching Sophia fumble her words at the Knowledge Summit because of a faulty Internet connection, combined with Atlas' not-quite-perfect jump finish is enough to reassure me that AI still has a long way to go before it becomes, as Musk claims, "a fundamental risk to human civilisation."