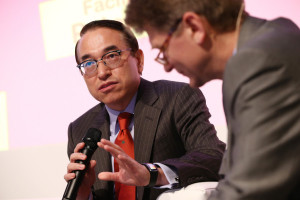 Samsung has today launched its Samsung Business division – that unifies its end-to-end business solution portfolio – at the CeBIT 2015 conference in Hannover, Germany.
Won-Pyo Hong, President and Chief Marketing Officer, Samsung Electronics, delivered a keynote addressing the Internet of Things (IoT) for enterprise and how Samsung is creating a collaborative IoT ecosystem.
"As more and more businesses adopt the Internet of Things, we have a great opportunity to enhance customer value with increased productivity and profit," he said. "Significant advancements can be made in the business process through the application of IoT in inventory management, energy efficiency and more. However, we first have to overcome the challenges of platform compatibility, data analysis and security in order to accelerate IoT adoption."
Samsung Business expands and unifies all Samsung business solutions, including KNOX for security and enterprise mobility management, SMART Signage solution, the company's printing solution and other business offerings.
The company is showcasing its enterprise solutions and services across the industries of retail, education, hospitality, healthcare, finance and transportation.
The six experiential zones at Samsung's exhibition booth aim to highlight scenarios for customers to experience firsthand experiences across Samsung devices, solutions and services.