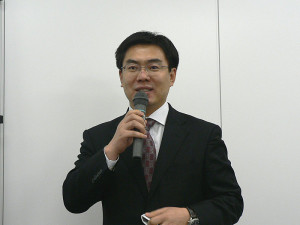 The President of Huawei's Enterprise Business Group used his keynote slot at CeBIT 2015 to highlight the company's strategy for transitioning to Industry 4.0.
Lida Yan discussed the company's vision for new architectures and IoT Gateways as well as the push towards 5th generation mobile networks.
Enterprise Business is one of three Huawei Groups, along with Carrier and Consumer.
"Huawei is contributing to the global standardisation of Industry 4.0," Yan said. "The core requirements for this are guaranteed latency, reliability and quality of service and bandwidth. A major challenge of Industry 4.0 is that the current ICT infrastructure needs to be reconstructed, with connections becoming increasingly important.
"Industry 4.0 will be characterised by huge volume – numbers in the region of 100 billion connections – and diverse interfaces. The Enterprise Business Group focuses on IoT Gateways, which can make devices and gateways virtualised. Smart IoT gateways allow the capacity to connect more devices."
Yan also highlighted how Huawei is partnering with SAP to enable 'Predictive Maintenance' from IoT Gateways via cloud analytics and Big Data solutions.
He discussed how 'LTE-M' – 'M' standing for machine is a concept the company is keen to push, a high quality network that encompasses machine devices. "Huawei is currently working with the top telco communicators in Europe to define the technologies for 5G," he said.