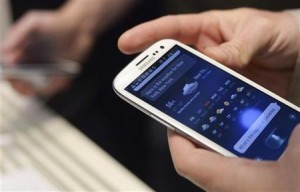 As Samsung seeks to challenge the dominance of the BlackBerry Enterprise Server platform in the business market, it has now struck a mobile device management technology deal with Absolute Software.
Absolute's technology is used to deliver endpoint security and management for PCs, laptops and ultra-portable devices. With Samsung overtaking BlackBerry in terms of smartphones used in the business market, it is now building a platform to manage those devices within companies.
Under the terms of the Absolute partnership Samsung will embed patented Absolute technology into the firmware of Samsung Galaxy mobile devices as a feature of the Samsung Knox platform, which will be launched later this year.
Samsung users will be able to use AbsoluteComputrace or Computrace LoJack technology to remotely track, manage and secure their Samsung Galaxy smartphones and tablets devices globally.
"As we expand our position in the enterprise market, our customers are demanding enterprise level security solutions. This is what Samsung Knox and Absolute deliver," said Injong Rhee, senior vice president of the technology strategy group at Samsung.
"Absolute's firmware-persistence technology and managed theft protection services are a feature of Samsung Knox for our enhanced security software and services strategy for the enterprise market," said Rhee.