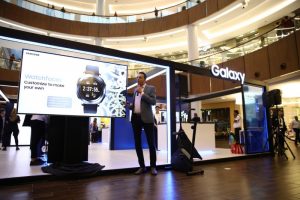 Samsung Gulf Electronics has introduced three new fitness devices to its wearable portfolio: Gear Sport, Gear Fit2 Pro and Gear IconX, during the opening ceremony of its Galaxy Studio in Dubai Mall yesterday.
From October 23rd till November 21st, customers can experience the excitement of Samsung's ecosystem of products and solutions in an enticing setting through first hand interactions, and together with Samsung demonstrating a wide variety of capabilities, said the firm.
"We are pleased to launch our latest range of wearables during the exciting opening ceremony of the Galaxy Studio in Dubai. This launch signifies our staunch commitment to this category, which we believe is one that truly adds value to our consumers; particularly as our wearables are designed with every individuals' lifestyle in mind. Today, Samsung wearables enable us to cater to every individual, whether the consumer is looking for the latest lifestyle trends, or planning to kick start a healthier routine, or even those who are fitness enthusiasts that can benefit from all the value-added innovations," said Tarek Sabbagh, head of IT and Mobile (IM) Division, Samsung Gulf Electronics.
The Samsung Galaxy Studio will feature an Interactive Table that will bring consumers closer to the Galaxy Note8. The Interactive Table will introduce visitors to a series of tasks and the latest features of the Note8, including an S Pen Gallery, Portrait Pool, 360 by Galaxy, the VR Sway Chair and the Galaxy Fitness using the Gear Sport wearable. Also, Samsung and du have partnered to offer customers a special discount when they purchase the Galaxy Note8 in conjunction with any du postpaid plan at the Galaxy Studio stand.
"We always strive to provide our customers with the most innovative technologies that fit into their everyday lifestyles. Our latest exclusive partnership with Samsung is a testament to our commitment. As such, we will be offering our customers special discounts when purchasing the state of the art Note8 from Samsung with our postpaid plans, at the limited time only Galaxy Studio activation in Dubai Mall. At du we not only aim to add life to life but promote happiness across the UAE with our latest offerings," said Fahad Al Hassawi, deputy chief executive officer, Emirates Integrated Telecommunications Company.
As part of the wearables launch event, customers can now receive 50 percent off on four-week healthy meal plans from Kcal Extra to help them achieve their wellness goals.
The Gear Sport comes with a minimalistic, circular bezel, Super AMOLED 1.2-inch display and improved user interface that makes it easy to view information, even when on-the-go. With Gear Sport, users can work to achieve health and wellness goals, and receive nutrition management alerts and activity recommendations even when they are offline. It comes designed in a sleek and ergonomic form and can be worn in a variety of colorful and easily changeable standard 20mm straps.
In addition to the new swim and heart rate monitoring capabilities, the new Gear Fit2 Pro features advanced built-in GPS tracking to capture your run or ride with accurate activity tracking. Gear Fit2 Pro's Super AMOLED curved 1.5-inch display and a high-resolution color touchscreen make real-time updates and notifications easier to read. The all-new secure, ergonomic band is light weight and comfortable to use for all activities.
The Gear IconX cord-free earbuds allows users to effortlessly listen to their favorite music. Music can be enjoyed on and offline by transferring songs from a Samsung smartphone or PC, or accessing your favorite tunes through Bluetooth connectivity. The earbuds are also users' newest connection to Bixby. With a simple tap and hold of the earbud users can use voice to control music or phone – without even having it in the hand. The updated design comes in black, gray and pink and is even more ergonomic and lightweight so they are effectively secure, comfortable and stylish to use. For the fitness enthusiast, the Gear IconX automatically tracks running routines, and also features the standalone Running Coach function which can be activated by simply tapping the earbud to provide in-ear audio exercise status updates – in real-time and without the phone.
The Samsung Gear Sport is available in blue and black for the price of AED 1,199.; the Samsung Gear IconX 2018 is available in gray, pink and black for the price of AED 699, whereas the Samsung Gear Fit2 Pro is available in red and black colours for the price of AED 699. The three new Samsung Fitness Wearables will be available across all major retailers in the UAE from 26 October 2017 onwards.