SAP has announced the launch of the second edition of HANA platform at the 20th annual edition of its TechEd conference in Barcelona.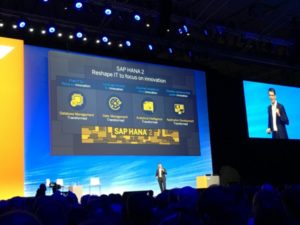 Executive member of the board Bernd Leukert said that HANA 2 will be officially available this month.
"Back in the days when we first built a superfast database, there was a lot of internal and external skepticism around the company," Leukert said. "They questioned whether we should even go into the database business.
"A lot of people did not believe SAP would be close to leading this industry. We had a vision to manage data, and help the world run better and improve lives.
"HANA 2 will deliver improvements in database management, data management, analytical intelligence and application development. It will help you to free up IT departments, and make business innovation a primary goal, via the use of deeper insights and better analytical capabilities."
HANA 2 will provide enhanced search capabilities, graph processing and text analysis, Leukert added.
The company is also launching its HANA Express Edition, which provides the platform free of charge for a range of organisations. "We believe that we should make HANA easier to access for developers, universities and every tech enthusiast in the industry," Leukert said.