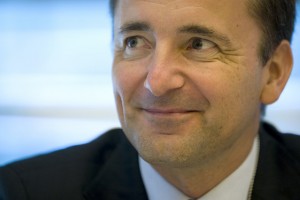 SAP today announced the general availability of Business Suite as a database on HANA, as well as revealing that all software solutions are now readily available in the cloud – concluding a three-year commitment to become the global leader in cloud technology. 
Jim Snabe, Co-CEO of SAP, said that following the release of HANA Business Warehouse in 2012, and HANA Business Suite as a database this year – the "enormous momentum" and "tremendous feedback" from its primary customers makes HANA the greatest innovation of the last 20 years.
"We are proud to announce, today, that HANA Business Suite as a database is now generally available. HANA is now ready to be your innovation platform – it's the fastest growing database and the fastest growing software product in business ever."
During his keynote, Snabe said that SAP last year committed to helping companies make a quantum leap in technology toward a sustainable and innovative future. He believes that HANA Business Suite allows businesses to leverage the power of big data and analytics in the fastest time possible, on beautiful applications, giving them the opportunity to evolve.
"In nature there is a natural selection, it's about being at the table, not on it. We see this in business. There is a natural selection in business – like in nature, changes happen in quantum leaps, changing the rules of the game, but there is one big difference; in business, evolution is not random, it's deliberate – deliberate by companies which are brave enough to define the future. I believe we have an opportunity and an obligation to use this technology to make our businesses run better, at the same time as making the world run better."
Jim Snabe introduced McLaren's chairman, Ron Dennis, who was present at last year's Sapphire event as an early customer of HANA.
"You speak about people that change the world, you speak about Darwin and natural selection – for me, I truly believe that if HANA was a person, she'd go down in history as changing the world," said Dennis.
"Although there is probably more geeks in this room than anywhere in the world right now, I try to simplify HANA in my work space. Simplified, we harvest six and half billion pieces of data per car, per race. Combined, that's double the amount of data than the human population per race. Suddenly, HANA provides you with a way of asking that population a question, simultaneously, and provides you with an answer in half a second – it's mind blowing."
Dennis said that the speed with which HANA has improved its data access is beyond comprehension, giving McLaren the ability to analyse, simulate, and predict the future.
Following the case study, SAP demonstrated a HANA hosted application called the Racing Dashboard for McLaren which uses data and analytics collected from previous races to predict outcomes of future races based on pre-set parameters.
Snabe handed the device over to Dennis as a gift, "And if you have any equipment lying around at McLaren that you'd like to offer over in return, I'll take it," he joked.
Though it wasn't all celebration – similar to Sapphire in Madrid last year, when McDermott was unable to attend due to a family tragedy, Lars Dalgaard, the brains behind the SAP cloud business unit, was unable to attend due to the passing of his father.
"Three years ago, we made a three year commitment which we are proud to announce we have honoured. Lars has been working very hard, and we would have loved to have had him here today to take the credit for his work in the cloud business, unfortunately his father passed away and he at home looking after his family," Snabe said.
Snabe then showed a video from last year' Sapphire, showing Dalgaard promising that SAP will make its cloud offering the most global offering – Snabe then announced that it has in fact honoured that commitment.
"It was our promise to bring all of our software solutions to the cloud and we have done that. Speed is critical in business now, and the scalability and availability of your applications in the largest global cloud platform will be the difference."
The SAP cloud business model does boast some rather impressive statistics; it's the world leader in cloud with more than 29 million users, it's social application 'Jam' has over 9.8 million subscribers, it has a $460 billion transaction total and a $1 billion run rate.
"HANA is the major quantum leap – it was a massive commitment for us, and we've delivered on that, with thanks to you," Snabe concluded.
Joe Lipscombe is reporting live from Sapphire Now in Florida – follow @computernewsme for updates