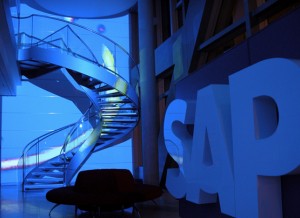 SAP has turned heads in recent years with a number of high-profile acquisitions, scooping up SuccessFactors, Sybase and Ariba for more than US$13 billion collectively. But company executives also maintain they intend to increase revenues through aggressive organic growth.
That plan means SAP will need lots of commercially successful new products. Under the leadership of Jason Yotopoulos, Executive Vice President of Global Research and Business Incubation, SAP has created a system where new ideas can be tested and developed with a startup's entrepreneurial flair.
SAP is looking to create internal startups that could result in US$200 million in revenue within three to five years, Yotopoulos said. These businesses are meant to pursue ideas that are either adjacent to a market SAP is already in, or things that typically "in a large company go against the grain," he added.
SAP is also hiring "the best entrepreneurs from inside and outside the company" to build teams in support of the ideas, he said. "In many cases, these people have learned the hard way on someone else's nickel what works and what doesn't."
Each effort is funded much like a typical startup, beginning with a seed round followed by additional stages, with the primary difference being that SAP is the sole investor. This provides an advantage, since the entrepreneurs SAP brings in to run the start ups aren't as distracted by the need to raise funds.
Not every project makes it, according to Yotopoulos; some are killed "if the market opportunity does not manifest itself."
About 200 research and incubation projects are now underway at SAP, according to a spokesman.
Ideas that show initial promise end up moving on to iterative testing with SAP customers, gaining refinement and direction. Eventually, the most promising ones are turned into products.
"There are some research organisations that work in an ivory tower. That's not the case here," Yotopoulos said. "Our objective is to fuel SAP's organic growth engine, getting in early, validating [ideas] and handing them off."
One effort that made it through to commercial viability was led by Allen Bannon, who is now SAP's vice president of solution management for virtualisation and cloud.
Bannon came to SAP after stints at JRockit and Symantec. He also founded an application performance management company called Acsera that was later renamed ClearApp and acquired by Oracle in 2008.
Bannon was planning to do another start up focused on virtualisation when he met with Yotopoulos, who convinced him to take a job with SAP. Over the next few years, Bannon's project worked its way through the incubation process and this year became a commercial product called SAP NetWeaver Landscape Virtualisation Management.
There's a big difference between running a start up independently, versus inside a large vendor like SAP, according to Bannon.
As an independent startup, a company would typically focus at first on one region, such as North America, Bannon said. "But when you have a global presence like SAP, when you build a product you have to meet all the regulatory requirements across the world."
This can make for a "lengthy process, but by going through that it's also sellable globally right away," Bannon added.
Other advantages lie in SAP's financial stability, but "more importantly, when you're inside SAP you can leverage the relationship SAP has with customers," Bannon said. "As a start up you'll never be able to have 40 companies sitting around the table telling you what their needs are so quickly."
There are certain disadvantages, depending on how you look at it, Bannon added. "When you're inside SAP, you have to kind of work within the context of the SAP goal," he said. "When you're outside, you can turn quickly whenever you want to, a little more freely. But if you're interested in going after a very big market and that market is something SAP is interested in going after, then it's a perfect match."
LVM is now SAP's fastest-growing product aside from its HANA in-memory database, although LVM's total sales are much smaller, according to Bannon.
Other recently released products that arose from SAP's entrepreneurial efforts include Precision Retailing, a mobile application that gives consumers personalised offers in real-time, and Smart Meter Analytics, which uses HANA to crunch large amounts of smart meter data for business insights.
Projects in the pipeline include SAP for Utilities Cloud EV Readiness Package, which will help power companies get a handle on electric vehicle infrastructure, and a project code-named BINGO, a suite of SaaS (software as a service) applications providing analytics and other capabilities for mobile game and gambling companies.
These efforts notwithstanding, it would be wrong to discount the cultural challenges SAP faces "moving from being a monolithic ERP company to an entrepreneurial, agile collection of really good startup ideas," said Jon Reed, an independent analyst and SAP Mentor, a title given to the company's most committed community members. "That's a huge transition."
"The challenges become, how do you discover ideas, nurture them until they're grown and then scale them," Reed added. "I would argue that SAP has proven to be good only at the first of these things."
HANA is an example of a significant success arising out of internal research, with strong initial sales and a central role in SAP's product strategy moving forward. However, "the difference is you had buy-in from the top" in the person of SAP co-founder Hasso Plattner, Reed said. "HANA clearly was a very special research project."
Other projects at SAP have died on the vine, sometimes due to internal politics, according to Reed. "Something you develop may be disruptive to something else SAP is doing," he said. "To be fair, that's not just an SAP problem."
"Still, at some point organisational politics play an unwanted role in deciding what goes to market," he added. "Hopefully they can find a way to protect good ideas and bring them forward."