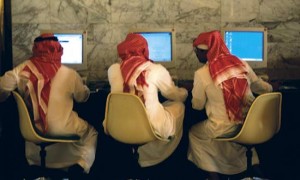 Saudi Arabia has threatened action against Internet-based communications applications if they do not meet local rules, suggesting that the kingdom is ready for a showdown with some of these providers over local monitoring of their services.
Local media had earlier reported that the kingdom had asked local telecommunications operators to ensure that messaging applications such as Skype and WhatsApp could be monitored for security reasons. If the services failed to comply, Saudi Arabia would block them, according to the reports.
Saudi Arabia's telecom regulator, the Communications and Information Technology Commission (CITC), said in a statement on Sunday that some IP applications did not meet its requirements and regulations, but did not give details of which regulations were broken by these services. CITC said it had asked operators to ensure that the services comply with local rules.
The kingdom threatened appropriate action against those services that did not meet the regulations, but again did not provide details of the action being considered.
CITC could not be immediately reached for further information.
Its statement, however, referred to news reports that the country would block Skype and others but did not provide additional information on plans for these specific services.
The current dispute may be similar to one Saudi Arabia had in 2010 with Research In Motion, now renamed as BlackBerry, over access to communications on some BlackBerry services. BlackBerry data services were allowed to continue in Saudi Arabia in a deal in which the company reportedly agreed to the monitoring of email and instant messaging data services, and also set up some communications servers in the kingdom.
Reporters Without Borders described Saudi Arabia as "intolerant of criticism" in a report in March last year. It complained about harsh censorship, filtering, widespread online surveillance and the use of repressive legislation in the kingdom.
About 16 million people, which make up 54 percent of the kingdom's population, had Internet access at the end of 2012, according to CITC. About 12 million people used mobile broadband, it added. The commission is expecting an upswing in Internet demand as the country rolls out high-speed fibre-optic cables starting with the cities.