Honeywell  and Saudi Aramco have signed a memorandum of understanding (MOU) to accelerate the benefits of the Industrial Internet of Things (IIoT) within Saudi Aramco's operations. The companies will work together to increase throughput, raise yield, and improve reliability of Saudi Aramco's operations by leveraging Honeywell's cloud-based services and predictive analytics solutions.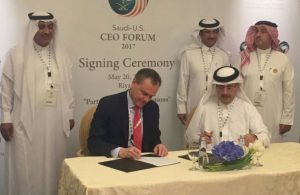 The agreement was signed in Riyadh by Honeywell President and CEO Darius Adamczyk and Saudi Aramco President and CEO Amin H. Nasser during a series of meetings where the companies discussed the opportunities and benefits of leveraging Honeywell Connected Plant (HCP).
The new agreement will allow Saudi Aramco to enhance operational performance across its network of facilities while presenting significant opportunities for Honeywell to advance the adoption of the latest software industrial solutions.
"Saudi Aramco's strategic objective is to collaborate with partners who are technology leaders and add strategic value to our company, sector, and the country as a whole," said Nasser. "Having worked closely with Honeywell for the past six decades, we have established a unique professional relationship based on mutual trust, common goals, and shared commitment to our industries – a reflection of the strong relationship between Saudi Arabia and the United States. This agreement represents a new platform to further enhance these efforts, and I look forward to this exciting chapter as we continue to leverage decades of global and regional experience in the sector."