Saudi Crown Prince Mohammed Bin Salman met with Google founders Larry Page and Sergey Brin, and CEO Sundar Pichai on Thursday, concluding his three week whirlwind tour of visiting US tech titans.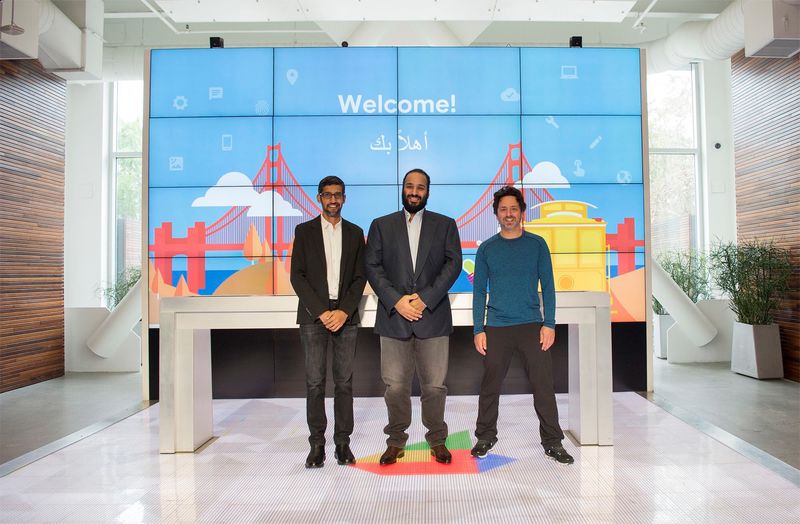 During the meeting, ways of cooperation in the cloud computing services in the Kingdom and promising opportunities in both technology localisation and digital environment development, in addition to an establishment of R&D centres for Saudi youth, were discussed.
They also discussed ways of enhancing cooperation in cybersecurity, the Saudi Press Agency (SPA) reported.
The Crown Prince was briefed on a presentation about Google's electronic cloud, artificial intelligence and automated learning portfolios. Mohammed bin Salman was accompanied to the meeting by Prince Khalid Bin Salman, Saudi ambassador to the United States, and the official delegation accompanying the Saudi heir to the throne.
He also met with Peter Thiel, the billionaire venture capitalist who advises President Donald Trump. In addition to Facebook, where Thiel sits on the board, the Saudi delegation visited data-analysis startup Palantir Technologies Inc. and a trio of investment firms created by Thiel: Clarium Capital, Valar Ventures and Founders Fund. Thiel is chairman and co-founder of Palantir.
During the meeting, they reviewed the latest investment projects and opportunities, particularly the Kingdom of Saudi Arabia's vision to create an attractive environment for emerging companies with innovative investments.
"Discussions concentrated on creating an attractive environment for emerging companies with innovative products," Saudi Arabia's embassy said in a statement.
The Crown Prince also discussed with the investors the trends of current investment and targeted sectors, inviting them to visit the Kingdom to be briefed on the promising opportunities.