CNME Editor Mark Forker spoke to Abid Shah, CIO at Saudi German Health UAE, and Jacob Chacko, Regional Director – Middle East, Saudi & South Africa at Aruba, a Hewlett Packard Enterprise company to find out how their 'perfect partnership' is driving new innovation in the healthcare space.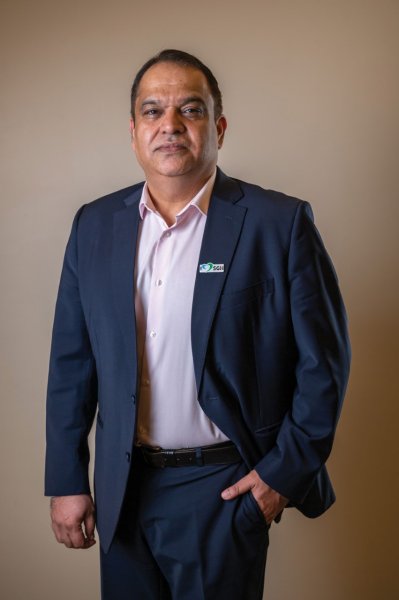 Saudi German Health UAE is a beacon of excellence and professionalism when it comes to healthcare across the Middle East. 
It is a premium brand, that has earned a reputation for its commitment to the health and wellbeing of the community and people it serves, by caring like a family.
In the UAE, it has hospitals in Dubai, Ajman, Sharjah, clinics in Jumeriah, Damac Hills and Damac Hills 2, with further facilities being added with a Centre of Excellence opening soon in Dubai and a hospital in Mirdiff.
However, to be able to consistently deliver a standard of healthcare that is unrivalled in the region, then you need to partner with best-in-class companies. 
Aruba, a Hewlett Packard Enterprise company is an entity that certainly can be branded in that sort of category, so their partnership is what some may describe as the 'perfect match'. 
In a bid to find out more about their collaboration, CNME conducted a candid interview with the two key figures at the centre of this partnership – Saudi German CIO Abid Shah and Jacob Chacko, Regional Director at Aruba, a Hewlett Packard Enterprise company.
Chacko kickstarted the interview by declaring it was a pleasure for his company to be associated with Saudi German Hospital – and outlined the role his company played in terms of helping them accelerate their digital transformation journey following the onset of the COVID-19 pandemic, emphasizing the importance of network connectivity. 
"We understood that the healthcare industry is somewhere that you need to deliver personalized patient care at the edge. To do this, quite simply you need to have a network that does not go down under any circumstances. When we entered this partnership together the initial thought process was how do we take Aruba's Edge Services platform architecture across to Saudi German Hospital? Our architecture is built on four pillars – and those four pillars are; connect, protect, analyse, and act. To translate that to Saudi German Hospital then the task was to connect every single device irrespective of what the device is, it could be an IoT device, or a laptop, or anything really, but the job then becomes how do we protect all those devices," said Chacko. 
Chacko added that a key objective for them was to equip Abid's IT team with the tools they need to identify or project potential issues in the network. 
"A big challenge for us was determining how do we give Abid and his team the insights they need using AIOPs to predict problems in the network? What actions can they take at the click of a button to solve the problem? When you're talking about Wi-Fi infrastructure there are a lot of factors that affect it, and when it fails, you hear very similar pain points and stories. However, what you need to do is really pinpoint the areas that you need to work on, and that's exactly what Aruba's Edge Services platform infrastructure is doing for Saudi German Hospital," said Chacko. 
When the COVID-19 pandemic crippled the global economy in March 2020, businesses were forced to adapt and rapidly transform overnight. 
However, a big advantage for Saudi German Hospital according to their CIO Abid Shah, was the fact that the healthcare organization had already commenced on its digital transformation journey. 
"What the COVID-19 pandemic did was really push technology services to the forefront – and it was absolutely critical for our business because we had patients that were remote, and we had staff working remotely, so we had to connect all our key personnel through the network. One of the key advantages we had at the onset of the pandemic was that we were already on a digital transformation journey, so we were well-equipped to continue to deliver the world-class services that we have become renowned for," said Shah. 
Shah added that he believes that technology must be at the centre of your decision-making in the new digital economy which is driven by 'experiences' – and praised the strength of Aruba's high-performing network for enabling them to deliver a high-quality of service. 
"Our primary objective during our transformation was to maintain the world-class service we deliver. I believe that technology is at the very heart of the world-class service that we have been providing all over the region. To be able to achieve this, you need a very strong, robust and reliable network to make sure that all your medical devices are connected, and your applications are connected, because top-class patient experience is fundamental for us. It's non-negotiable. Aruba's architecture supported the delivery of all these services – and we are confident that the high-performing network will also support our future requirements as we look to expand across the UAE and the rest of the Middle East," said Shah. 
The Saudi German Health CIO also disclosed that with future-proof technology now on offer there are a lot of use-cases that they can adopt, and one of the key things they are looking for from their partnership with Aruba, a Hewlett Packard Enterprise company is the ability to innovate together. 
It has been well-documented by now that healthcare organizations are a huge target for cyberhackers – and we have seen the devastating impact ransomware attacks have had on the NHS in the UK, and the HSE in Ireland. 
Shah acknowledges that cyberthreats are constantly evolving, ongoing and increasingly sophisticated, and reiterated the critical importance of network security, once again highlighting the role played by Aruba, a Hewlett Packard Enterprise company.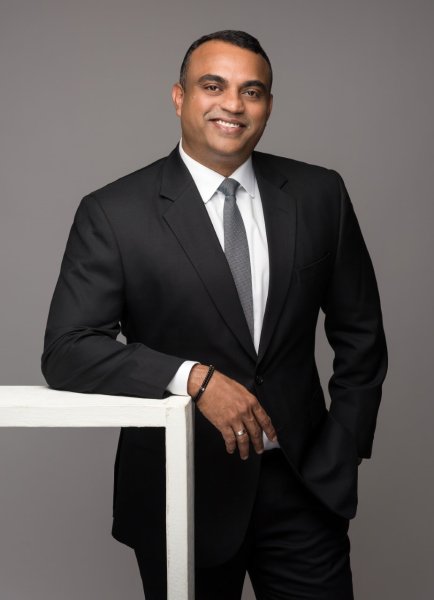 "Network security is our top priority. We have invested heavily around security, and we are constantly engaged with a number of our partners in relation to our security model. One of the many benefits of partnering with Aruba, is we know that their network security is very strong, and we are actively having discussions in which we are looking at ways that we can enhance it. When it all comes down to it, what we are really trying to do is protect our patients' records and data. We are acutely aware of the fact that security risks are getting higher and the attackers behind them are more sophisticated, so it's an area of paramount importance to us," said Shah. 
Aruba, a Hewlett Packard Enterprise company has always been a market leader and a great innovator when it comes to Wi-Fi technology, and WiFi6E has played a key role in empowering the infrastructure at Saudi German Health UAE. 
Chacko believes Aruba's approach to Wi-Fi technology is key market differentiators – and said Aruba access points works as an 'IoT Gateway' that integrates with various use cases and bring business outcomes for customers. 
"When you talk about new Wi-Fi technology, Aruba HPE has always led the charge in this regard. We were the first to launch the Wi-Fi 6E access points in the marketplace. However, the whole idea was how do we get all these endpoints and onboard them onto the network and work seamlessly? Something that really differentiates us from other vendors in the market is the fact that we don't build a Wi-Fi access point just for it to work as a Wi-Fi access point, no instead we treat that access point as a gateway to the IoT. If you examine the infrastructure at Saudi German Hospital, all those access points are Wi-Fi 6E, and they have a built in Zigbee, Bluetooth and a provision to take a 3rdparty USB dongles. When you have all that capability built into the access point then the potential business outcomes really open up," said Chacko.  
One of the business outcomes according to Chacko is nurse calling systems.  
"We have a number of very close relationships with an ecosystem of healthcare solution providers, and our solutions integrating with them adds real value to Saudi German Hospital. If you are running a nurse calling system then it is critical that there is quality of service to be maintained on the network – and this what exactly can be done with a Wi-Fi 6E access point," said Chacko.  
Chacko pointed out that other key capability of their Wi-Fi 6E access points is that each of them has a GPS built into them, which is an industry-first and the solution is called Open-Locate that will open up various location services use cases in different industry verticals.  
Shah said the analytics that Open-Locate provides for them is another tool for them to improve the patient experience at Saudi German Hospital. 
"Open-Locate will allow us to label all our departments, and you can map the entire hospital, which allows patients to navigate their way around much more effectively than in the past. What the technology also allows us to do is track where the patient has been, and see how long they've spent in each area. We can track the patient from when the very moment they ring up, or book through an application. Once they arrive, we can guide them on every step of the journey, and then we can look at their experience – it enables us to see how we can improve that experience in terms of their waiting times, and use the technology to improve our own processes and make us more efficient," said Shah. 
The charismatic CIO of Saudi German Health added that he wanted a uniformed experience across all their facilities. 
"We want the patient experience to be consistent and seamless throughout all our facilities. In the UAE, when our patients move from our Dubai hospital to Ajman, or Sharjah, we want them to have the same level of experience, and the Aruba platform will help us achieve that. We're applying the same concept to our health systems, which means our patients can access their files in any of our hospitals, or clinics. Our collaboration with Aruba and Megamind (our digital transformation group company) is so important to us, because it is also going to support our digital transformation going forward," said Shah. 
Chacko concluded a wonderful wide-ranging discussion by highlighted the critical role its UXI censor plays in ensuring the security of its networks. 
He likened the UXI censor to having a technician, or a network administrator working in the network 24/7. 
"If you employ a human to perform security 24/7 then it is highly likely there will be human failure. However, the beauty of the UXI censor is the fact it is always on, and sits in the network 365 days of the year. It essentially emulates what a client would do, and when it identifies an issue then it immediately sends out a trigger. There is nothing down on the network as of yet, but there could possibly be a problem. The AI is letting an IT department know there is something not quite right on the network, and gives them the information they need to rectify it. It's going to be implemented in Saudi German Hospital very soon, and it'll have a big impact on their operational model. We have so many references from customers globally who absolutely love it – and I'm confident Abid and his team will also love it," concluded Chacko.