On the sidelines of Misk Global Forum, Saudi Arabia's National Digitisation Unit (NDU) has entered into an agreement with GE,  to drive industrial diversification and to support the youth in helping to move forward the Kingdom's digital transformation, according to Arab News.
The MoU was signed by Deema Alyahya, acting CEO of the NDU, and Hisham Al-Bahkali, President and CEO, GE Saudi Arabia and Bahrain.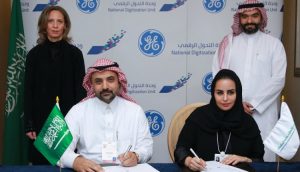 The first activity under this MoU took place during the Forum under a workshop hosted by Rania Rostom, Chief Innovation Officer, GE MENAT. It focused on the importance of sensors, data and analysis to connect critical machines in energy, health care, aviation and manufacturing.
The NDU and GE will collaborate in accelerating digital transformation across critical industries including health care, water and mining. Moreover, GE will train Saudi youth to obtain the advanced skills needed in digital and software development.
The agreement will also target digital skills supporting Saudi youth to drive the digital transformation of the Kingdom in line with the goals set under Vision 2030.
The partners will, for example, leverage GE's digital applications such as Asset Performance Management, which tracks and optimises assets, and ServiceMax, which allows field service engineers' time to be utilised more efficiently.
Commenting on the agreement, Alyahya said: "As the tech-savvy Saudi youth play a defining role in achieving [Saudi Vision 2030], we at the NDU focus on promoting our national talent and helping build innovative digital business models that will establish Saudi Arabia as a pioneering digital nation."
The NDU is also working on smart cities solutions in order to realise Vision 2030's goal of building the new hub for the Arab world and has signed an MoU with NXN, a leading smart city consulting and digital service provider in the Middle East and Africa, says the Arab News report.