A team of Saudi inventors have come up with an innovation  – on-road energy harvesting from running vehicles – that can generate electricity for NEOM, the new $500-billion digital city coming up in the north of the Kingdom, Saudi Gazette reported.
Inventor Meshal Al-Harasani announced the completion of the first phases of the invention, which is designed to produce electricity for the proposed mega city from kinetic energy, or energy from the motion of running vehicles.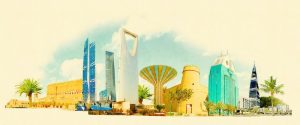 NEOM is a city for dreamers and it's going to be a green and future-oriented place, said Al-Harasani,who serves as a counsellor of the vice president for business and knowledge creativity at King Abdulaziz University.
The future is in sustainable energy, he said, when asked about the idea behind the project.
It took two engineering teams to develop the project together. The design involves ramp-steps integrated in the pavement with turbines operating to harvest energy from car tires passing over them. Energy generated from the pressure and speed of vehicles in traffic is then converted into electricity. Currently, there are no similar technologies used on roads in the Kingdom for converting energy.
The home-grown invention was presented to Crown Prince Muhammad Bin Salman, deputy premier and minister of defense, who earlier announced that the new zone would provide a new way of life and the highest sustainability standards.