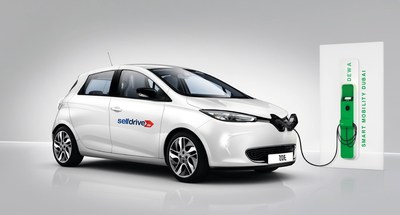 Self Drive has announced the launch of a new segment of all-electric E-Cars to its online fleet of cars in Dubai.
SelfDrive.ae now offers the E-Cars service on its Smart Mass Mobility Technology (SMMT) platform.
The platform allows users to reserve Self Drive cars online, and choose from 75 different car models across 25 car brands.
As part of this initiative, the company offers Renault Zoe All Electric Car at an introductory price of 5 AED per hour, with a minimum billing cycle of 24 hrs and a range of 250 kilometres per day.
The vehicles can be rented on demand and reserved via Selfdrive.ae on a daily, weekly or monthly basis.
Customers have the option to charge the car free of cost at more than 90 Dubai Electricity and Water Authority charging locations.
Soham Shah, founder and director of Pinewoods Technology Services Dubai, the holding company of Selfdrive.ae, said, "We are thankful to the Roads and Transport Authority and Dubai Electricity and Water Authority for collaborating to incentivise electric cars by allowing free charging across all DEWA car charging stations, free parking and Salik Tag. Selfdrive.ae is proud to take its first steps towards making electric cars more accessible and affordable to the masses and to create an ecosystem for people to explore the new age of mobility by introducing new avenues in smart mobility and car share technology."
Parent Company SelfDrive.In is one of India's leaders in the self-driving car rental space, and is a is a subsidiary of Indian corporate car leasing and car rental firm Pinewoods Service Corporation. The firm currently has 2,000 cars across the UAE.
Self Drive operates across over 300 sub locations with door step delivery service.
In March, DEWA announced that it would double the number of electric charging stations in the emirate.