Sharjah Department of Statistics and Community Development (DSCD) has signed memorandums of understanding (MoUs) with six local government departments to launch 'Tabadol', a data and information sharing platform.
The new platform, according to the firm is aimed at enhancing the communication and statistical gathering systems among government firms.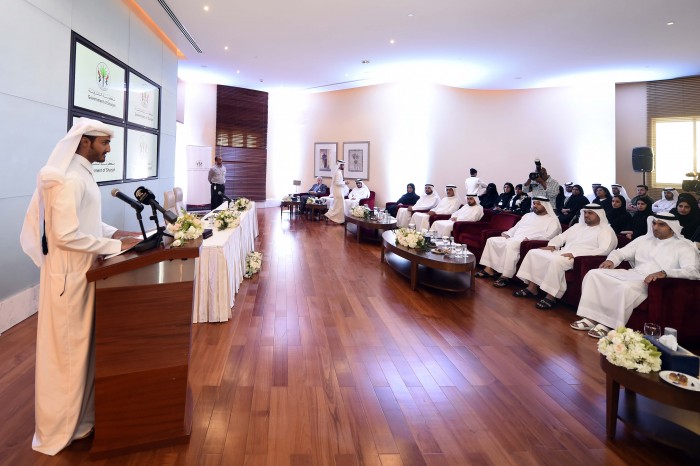 DSCD highlighted that the MoUs pave the way for Tabadol to enable the exchange of information between government agencies, as well as to the business community, residents and citizens.
The agreements stipulate that all parties must develop a strategic plan that allows government departments to adopt the best international practices in the collection, storage, protection and issuance of the emirate's data. They must also apply all tools, standards and regulations necessary to ensure that information and data security is maintained (data masking)
The signing at a press conference organised by DSCD at the Sharjah Chamber of Commerce and Industry, was attended by HE Sheikh Mohammed Bin Abdulla Al Thani, chairman, DSCD, HE Sultan Bin Butti Al Muhairi-Secretary General of the Executive Council of Sharjah, Sheikh HE Mohammed Bin Humaid Al Qasimi, director, DSCD, HE Sultan Abdullah Bin Hadda Al Suwaidi, Chairman of Sharjah Economic Development Department, HE Abdulaziz Ahmad Shamis Al Shamsi, Director of Real Estate Registration Directorate, HE Khalid Mohammed Al Ali, Secretary General, Sharjah Urban Planning Council, HE Dr Rashid Al Leem , Chairman of Sharjah Electricity and Water Authority (SEWA), HE Naila Mohammed Al Shamsi, Director of Support Service Department at the Directorate of Town Planning and Survey and a number of other senior officials from government entities.
The Tabadol project aims to enhance technical cooperation between government departments and support coordination in exchanging information. It also intends to structure the development of statistical work by conducting surveys, developing the overall statistical system and sharing expertise and training to forge long term strategic partnerships.
Sheikh Mohammed bin Abdullah Al Thani, chairman, DSCD, said, "The data sharing agreements with Sharjah government departments is in keeping with the directives of His Highness Dr Sheikh Sultan bin Mohammed Al Qasimi, Supreme Council Member and Ruler of Sharjah, to support the goals of national economic and social development. The Tabadol initiative strengthens modern approaches to enhance the flow of data and indicators between government departments, and consequently reflect positively on performance."
According to HE Al Thani, Sharjah DSCD's key mission focuses on providing updated and reliable data and indicators for decision makers who lay down the development plans and strategies in various sectors. "In view of the momentous growth witnessed by Sharjah and its ambitious plans, the need for concerted government efforts is greater than ever to offer a realistic picture of the emirate covering social and economic aspects for Emirati citizens, expatriate residents, investors and companies," he said. "The adoption of Tabadol will make that process more effective and efficient to government departments and ultimately more beneficial to Sharjah's residents."