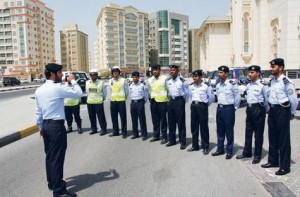 Dell has signed a strategic Memorandum of Understanding (MoU) with Sharjah Police, to reach their tactical objectives of enhancing security in the Emirate.
Sharjah Police has partnered with Dell to implement a solution to improve their video surveillance, data analysis, evidence tracking capabilities and response time.
Dell has provided both infrastructure hardware and software for a solution that has been tailored to suit the needs of the Sharjah Police department.
Following the roll-out, Sharjah Police hopes it will have deeper and wider coverage, improved rapid-response, sharper investigation and evidence tracking abilities, as well as increased transparency.
Dell will also be supporting Sharjah Police in implementing live video capture for police cars and motorcycles.
"We are delighted to have the opportunity to enhance the security infrastructure of Sharjah Police, which is key to the success of Sharjah Police department," said Dave Brooke, General Manager, Middle East, Dell. "The range of measures that are being implemented are reflective of the importance that the Emirate of Sharjah is placing on safety, and we are confident that the addition of modern systems and applications into their arsenal of tools will have positive, impactful and far reaching results,"
"This collaboration signifies our continued efforts to protect the residents of Sharjah as the city continues to grow and develop," said Ltd. Colonel Khalid Buhindi, Director, Sharjah Police IT Department. "The implementation is key to our ability to monitor and store vast amounts of information that is crucial to safeguarding the security of Sharjah. Through Dell's expertise and scalable end-to-solutions we believe we have the tools to support our current endeavors, in addition to a foundation for future growth."