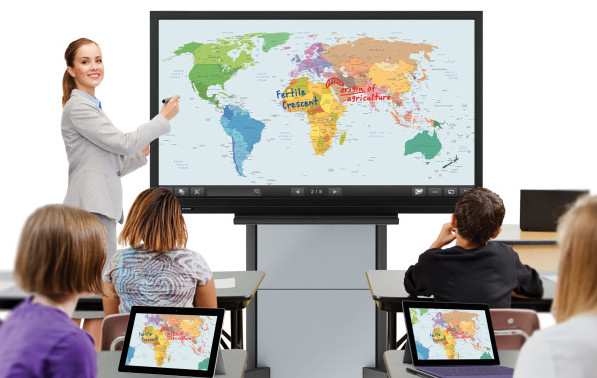 Sharp Middle East and Africa has announced it will be showcasing a full range of education products and solutions at Gulf Educational Supplies and Solutions 2016 (GESS), set to take place in 1st to 3rd March, 2016 at the Dubai World Trade Centre.
This year, Sharp expects to draw visitors to their stand with the latest visual and signage solutions that will create an enhanced collaborative learning environment for teachers and students.
"Governments in the region are focusing on implementing smart technologies across educational institutes, introducing smart learning and ultimately improving student's education," said Ravinder Kumar, General Manager, Business Solutions at Sharp Middle East and Africa. "This year, we will showcase a full comprehensive solution including the latest intelligent technology products as well as content, classroom management & learning management systems through our partners."
With the theme, 'Education Through Innovation,' the company's stand, will feature demonstrations on how the products and solutions on display by Sharp, will allow schools and universities to encourage smart learning, develop their offering further and open up new revenue opportunities.
Collaborative products that will be on display at the event include 65", 70", 80" and 84" intelligent touch boards, that take annotations and collaboration to a different level between students, staff and faculty members. Sharp will unveil its latest 70" intelligent touch LCD monitor that boasts enhanced security, wireless connectivity and option to showcase multiple pieces of content from connected devices on one screen.
Through its partners, Sharp will showcase a variety of solutions available to schools and universities. The Classroom Management Solution that allows teachers to effectively control student devices , stream videos, teach graphic-intensive subjects, share content and even software to student's in real time. Spectacular teaching tools with versatile animations, illustrations and interactive content is offered to Educators to enhance the teaching process. Learning Management System, enables students and teachers separated by time and distance to remotely connect and communicate in digital classrooms with customizable workflows.
Sharp's signage monitors are used in educational institutes to display information, signage and timetables across campus. The latest signage monitor on display will be the Sharp PN-H701, a 70" 4K Ultra HD Monitor, which offers an impressive super-high-resolution image quality to showcase all manner of content, from detailed text to beautifully textured graphics.
Sharp Middle East and Africa's stand at GESS 2016 will be located in Zabeel Hall 4 at the Dubai World Trade Centre, Dubai.