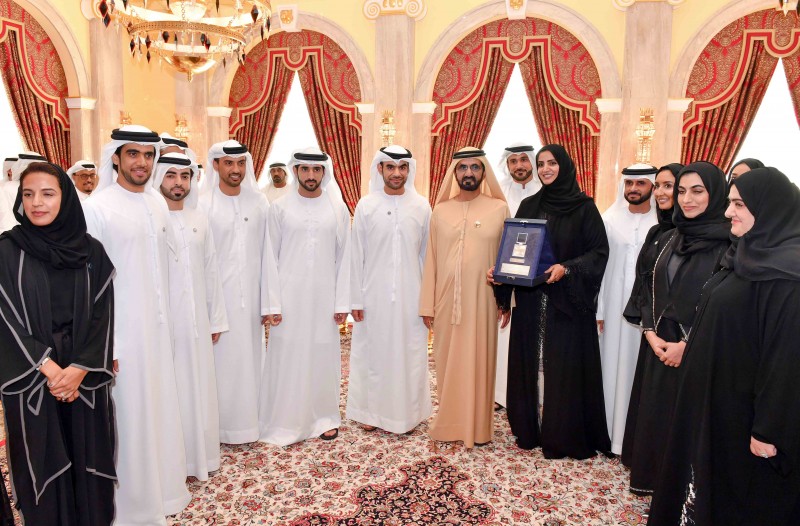 His Highness Sheikh Mohammed bin Rashid Al Maktoum, Vice President and Prime Minister of the UAE and Ruler of Dubai, has received the Informatics Medal in recognition of his support in making Smart Dubai's ambitions a reality.
HH received the medal in the presence of H.H. Sheikh Hamdan bin Mohammed bin Rashid Al Maktoum, Crown Prince of Dubai and Chairman of Dubai Executive Council, H.H. Sheikh Maktoum bin Mohammed bin Rashid Al Maktoum, Deputy Ruler of Dubai, and several sheikhs, ministers and senior officials in the country.
Dr. Aisha bin Bishr, director-general of the Smart Dubai Office, handed the award to His Highness Sheikh Mohammed, and said that deploying the latest technologies to develop services and supporting infrastructure has made exceptional changes toward achieving Dubai Government's vision in making Dubai the happiest and smartest city in the world.
She added that the digital revolution initiative was launched based on two important factors, relying on the Internet of Things.
His Highness Sheikh Mohammed thanked the Smart Dubai delegation for their gesture, and expressed his happiness at meeting the "ambitious" group, who are striving to achieve the UAE's objectives, and in transforming in a way that helps the nation's citizens and residents live in happiness and security.
Last week, HH launched the Mohammed bin Rashid Centre for Future Research, which will publish its research and outcomes to global academic and research communities and will adopt "a new concept" based on open and participatory international research among scientists.
Its first series of research initiatives will include the financing of a research community of 3,000 scientists, to conduct new studies on space science and technology.
The Mohammed bin Rashid Centre for Future Research will present a new approach to scientific cooperation, by adopting participatory research studies among international scientists, and motivating and attracting scientists to perform leading and innovative studies and research in over 50 areas.