Sheikh Mohammed bin Rashid Al Maktoum has recently hosted a gathering with members of the Emirates Scientists Council, the Mohammed bin Rashid Academy of Scientists, and various researchers at Za'abeel Palace.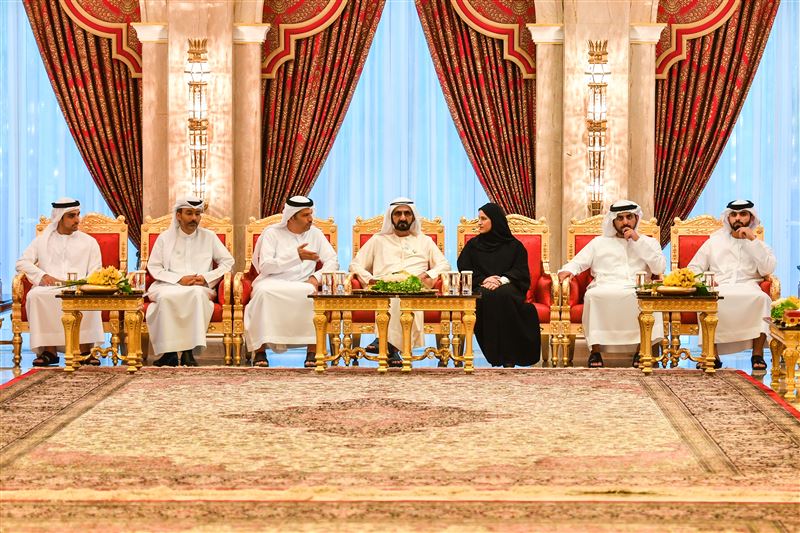 At the meeting, the Dubai ruler spoke highly of the efforts exerted by the Emirates Scientists Council and MBR Academy of Scientists and their role in the attaining sustainable development in the UAE to create a knowledge-based economy, thus paving the path for reaching the goals of UAE Vision 2021.
He urged young scientists to never settle for what they have achieved and continue on with the quest for knowledge.
The gathering was also attended by the Deputy Ruler of Dubai Sheikh Maktoum bin Mohammed bin Rashid Al Maktoum; Sheikh Mansour bin Mohammed bin Rashid Al Maktoum; Minister of Cabinet Affairs and The Future Mohammed Abdullah Al Gergawi; Minister of State for Advanced Sciences Sarah Al Amiri; Director General of Department of Protocol and Hospitality in Dubai Khalifa Saeed Suleiman; and senior officials from universities and colleges in the UAE.
Last month, Sheikh Mohammed unveiled the UAE National Advanced Science Agenda 2031, which is aimed at enhancing advanced sciences environment in the UAE is the best investment in building the future, and key tool to implement creative ideas.
The Agenda serves to utilise advanced sciences in the development and creation of solutions to future challenges and support the government's efforts to achieve the objectives of the UAE National Agenda 2021 and the UAE Centennial Plan 2071.
Sheikh Mohammed launched the National Agenda along with the 2021 Advanced Science Strategy, which falls under the Agenda 2031. "Promoting the advanced sciences environment in the UAE is the best investment in making the future and a key tool to turn the creativity of human mind into reality," Sheikh Mohammed said.
Furthermore, as part of the UAE's commitment to accelerate initiatives in scientific research and development (R&D), Sheikh Mohammed announced the launch of a Platform for Scientific Laboratories, "the first of its kind in the UAE."
The new platform will allow researchers and scientists to access the most advanced laboratory equipment, and create an environment for scientists to exchange knowledge, expertise and scientific results.