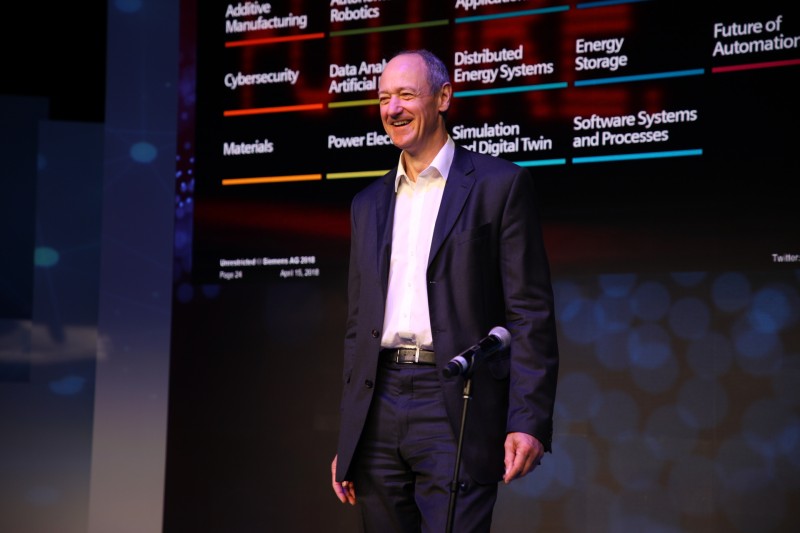 Siemens' chief technology officer and board member Dr Roland Busch has said that the Middle East's energy and transport industries are poised to benefit from new developments in IoT, as the firm announced that it would invest $500 million into the Middle East region over the next three years.
Speaking at the firm's Innovation Day at Dubai Opera, which was held in partnership with Dubai Electricity and Water Authority and Expo 2020, Busch said the majority of the investment will go into software grants, with the UAE receiving "$100 million" of the cash.
"The Middle East is a fast-growing market with a number of challenges," he said. "Most of its countries are diversifying, looking at renewable energy sources and creating new industries, and I believe that creates challenges and opportunities. We're here to help and support, via a programme where we take the policy and strategy of each country, and map what we can do. We've already done it for Abu Dhabi and for Saudi Arabia with its Vision 2030 ambitions. This is a comprehensive programme that cuts across a range of areas including energy, healthcare and mobility."
The investment includes building two new MindSphere Application Centres in the UAE, which will be located in Dubai and Abu Dhabi. MindSphere is Siemens' cloud-based operating system for the Internet of Things (IoT), and the German firm is planning to set up 20 MindSphere Application Centres across 17 countries, which will focus on specific industries which the company specialises in.
The centres will host around 900 software developers, data specialists and engineers who will develop digital innovations for data analysis and machine learning with Siemens customers.
The MindSphere Application Centre in Dubai will handle airports, logistics and cargo to co-develop approaches that improve the movement of people and goods. It aims to optimise the efficiency of logistics by leveraging analytics and IoT solutions provided by Siemens. The Abu Dhabi centre will mainly focus on oil and gas, water and waste water, while the Riyadh site will focus on oil and gas.
"Dubai is a logistics hub, where everything comes together," Busch said. "Airports rely on energy supplies, operation and logistics. We want to help assets to run better, with more efficiency."
Busch said Siemens had invested €5.2 billion in electrification, automation and digitisation as of December 2017, with €1.2 billion spent on improving the firm's technologies in the latter space. "Digitalisation starts in the fleet," Busch said. "The fleet is where things will be connected. We've spent $10 billion in acquisitions to make us one of the world's top 10 software companies.
"Data is the oil of the 21st century. The combination of operational technology and digitisation is now driving all-new value. People often ask why things are now changing so quickly with Industry 4.0. It's down to the fast development of technologies, renewables and photovoltaics. The next part is digital technologies, 5G and enhanced processing power. Thirdly, new business models are changing things. These factors are coming together to create change across the industries we're serving, including healthcare, energy and transport. It's creating new changes in way people live."