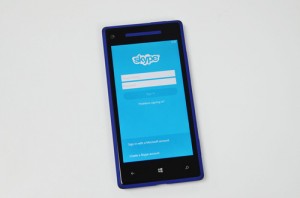 Microsoft has made a preview version of Skype for Windows Phone 8 available for download, which promises better integration with the operating system's user interface and more features.
The preview includes all of the Skype basics along with features such as integration with the People Hub. Users will also receive some call and message notifications even when the app is closed and in the background, Microsoft said in a blog post yesterday.
The Skype application is being rebuilt from the ground up to be a more integrated part of Windows Phone. For the first time, incoming Skype calls arrive using the standard incoming call screen. Microsoft is also adding features such as call waiting, so users can switch between a Skype call and a regular mobile call.
The client will be tightly integrated with the tiles on the home screen and notifications can be viewed on the lock screen alongside missed calls, unread emails and text messages, as well. So there is no need for users to unlock their phone to check if there are any missed messages or calls.
Microsoft didn't say when the final version will arrive, although users who download the preview will get an update as soon as it is available.
Smartphones that will be able to run the new application includes HTC's Windows Phone 8S and Windows Phone 8X; the Lumia 820 and 920 from Nokia; and Samsung Electronics' Ativ S.
The preview can be downloaded from windowsphone.com.
Going forward, Microsoft will rely on Skype for communications, which it acquired in October 2011 for US$8.5 billion.
Windows Live Messenger, on the other hand, will be retired during the first quarter of next year, with the exception of mainland China, Tony Bates, president of Microsoft's Skype division, said in a blog post last week.
Users that migrate from Messenger to Skype will be able to send instant messages and make calls to landlines, mobiles and other users of the service from one place. There is also support for video calls to groups and individuals, including Facebook friends, according to Bates.