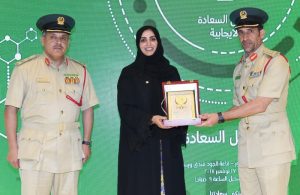 Smart Dubai Office and Dubai Police have announced a collaboration aimed towards enhancing public participation, and the levels of happiness in Dubai, as part of the Happiness Agenda that was launched in May 2016 by HH Sheikh Mohammed Al Maktoum, vice president and prime minister of UAE, Ruler of Dubai. The project, 'Happy to Pay', intends to reduce people's reluctance to pay their fines on time and, more importantly, to feel better about paying.
The project is a practical application of behavioural economics in policy-making, also called 'nudges', which are becoming the standard in advanced government units such as Behavioural Insights Unit in the UK government, and SBST in the USA government. Together with leading scientists from the University of Oxford and Harvard Business School, the Dubai team have developed a new version of the Dubai Police app, that allows users to pay their traffic fines, but with subtle differences that will be tested for their effectiveness in raising both compliance and happiness.
Based on data published by the Department of Finance, users will be presented with details of how the government budget is allocated in 2017 and therefore gives users a clear view of how funds from their fines will be spent. The Dubai Police 'Happy to Pay' app will also be leveraged to allow forms of engagement with users and to get a sense of how they feel funds should be allocated amongst sectors such as health, infrastructure, safety, and education. In this way, users will be able to better understand how their payment contributes towards public services, rather than seeing the fine as a mere penalty. This trial will allow the scientists to gauge the extent that transparency and participation influences people's engagement with civic life and ultimately increase their happiness in Dubai. Further, aside from the valuable social benefits to the trial, there are also financial benefits, where the data is expected to show how users will pay their fines earlier, and reduce the likelihood of long-term delays in unpaid fines.
Her Excellency Dr Aisha Bint Butti Bin Bishr, director-general of the Smart Dubai Office (SDO), said, "Launching the 'Happy to Pay' service and application is an unprecedented milestone in the region and a rare and significant achievement on a global level. The technology helps transform the task of collecting fines into a community effort, and promotes the development of various sectors."
"While many countries around the world still view happiness as an abstract issue," Dr Aisha added, "we, in the UAE, have succeeded in transforming it into a real-life experience for the citizens, residents and visitors of the city. Developed in collaboration with experts from the Universities of Oxford and Harvard, the application borrows its design from the theories and foundations of human behavioural science. It allows individuals to pay their fines at a location of their preference, engaging them in nation-wide development efforts."
The trial will be conducted as a Randomised-Controlled Trial (RCT) which is the gold standard of international academic research. These are the same strict methods used in assessing clinical trials, because of the need to ensure evidence-based decisions.
Therefore, this trial will make a practical demonstration of evidence-based action, and in this case, the design of the Dubai Police 'Happy to Pay' app will be enhanced after the trial results are analysed, and eventually published in international scientific journals. The design enhancements will be based on scientific evidence for the best outcome towards happiness in Dubai.
The Smart Dubai Government Establishment (SDG), in collaboration with the Department of Finance and ENOC Group, has recently also signed a memorandum of understanding (MoU) to launch a new service via its flagship Dubai Now smartphone application.