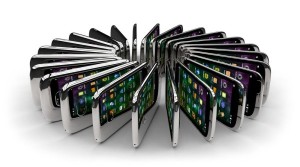 According to the latest research from Gartner, smartphone sales have surpassed feature phone sales for the first time, with smartphones accounting for 51.8 percent of all mobile phone sales in the second quarter of 2013.
Worldwide smartphone sales to end users reached 225 million units during Q2, marking a 46.5 percent increase over the same period last year, Gartner said in a statement. Sales of feature phones, meanwhile totalled 210 million units, showing a year-over-year decline of 21 percent.
Mobile phone sales in general totalled 435 million units during the second quarter, showing an increase of 3.6 percent on the same period last year, Gartner added.
Smartphone sales grew in every region. But the highest growth was seen in Asia/Pacific, Latin America and Eastern Europe, which posted smartphone growth rates of 74.1 percent, 55.7 percent and 31.6 percent respectively.
In terms of who owns the controlling share of the smartphone market, Gartner said that Samsung maintained the number-one position with a market share of 31.7 percent. In the same period last year, Samsung's smartphone market share was 29.7 percent. Meanwhile, Apple's smartphone sales reached 32 million units in the second quarter of 2013, up 10.2 percent from a year ago.
LG Electronics took the third spot in Q2, gaining 5.1 percent of the smartphone market with 11.5 million sales. Lenovo was close behind with a market share of 4.7 percent, and ZTE trailed with a share of 4.3 percent. Other brands made up the remaining 40 percent of the market, Gartner said.
In terms of operating systems, BlackBerry lost ground to Microsoft during Q2, with Windows Phone taking a 3.3-percent market share and with it the number-three spot. However, Gartner was quick to point out that Microsoft still had much work to do to remain competitive in the smartphone market.
"While Microsoft has managed to increase share and volume in the quarter, Microsoft should continue to focus on growing interest from app developers to help grow its appeal among users," said Anshul Gupta, Principal Research Analyst, Gartner.
Meanwhile, it came as no surprise that Android continued to increase its lead over competing OSes, garnering 79 percent of the market in the second quarter. Apple's iOS made up just 14.2 percent of the market.
Gupta added that smartphone sales were broadly in line with Gartner's predictions, and that the research house would not be adjusting its mobile phone sales forecast of 1.82 billion units by the end of the year.
"Flagship devices brought to market in time for the holidays, and the continued price reduction of smartphones, will drive consumer adoption in the second half of the year," he said.