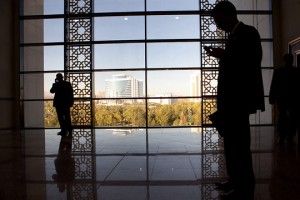 The telecoms industry is set for huge growth over coming years, thanks to the protracted maturation in the smartphone and tablet markets, said research agency Ovum in a statement on 2 March.
The prediction is that that partnerships will be created between telcos and innovators from other sectors to offer convergence and enhance the services offered to customers, the agency said.
Recent data from Research and Markets has found that the retail revenue of the telecoms sector in the Asia-Pacific region will hit US$322 by 2016. The growth will be bolstered by a demand for on-the-go internet connections that will in turn lead to a wider take-up of smartphones and tablets with 3G and 4G connections. The study predicts that within India alone there will be 200 million smartphones by 2016.
According to Ovum, further growth will come from how well the telco industry can interact with partner firms in order to drive growth in innovative ways. Mobile payment company mPowa is already locked in high level conversations with telcos within the Asia-Pacific region with a view to signing deals that will enable mobile networks to introduce payment infrastructures for their business customers. Such deals, which have already taken place in Europe with Portugal Telecom, will help the telecoms industry to create customisable payment platforms using mPowa's white label solution.
mPowa works by using a free mobile phone app and a reader which connects to a smartphone or mobile device via Bluetooth. It enables companies and individuals to accept card payments from their customers on the go in a quick and convenient way. The mobile app is free to download on iPhone, iPad, Android, Windows and Blackberry devices and functions as the control centre that accepts the payment.
As part of the company's expansion into Asia, mPowa will be exhibiting at Cartes Asia in Hong Kong on 27-28 March. Cartes will bring together the leading companies from card manufacturing, payment, security, identification and mobility industries. mPowa will be among those showcasing their solutions to the 3,000 delegates from the industry.
"Now is the perfect time for us to expand into the Asia Pacific region," Dan Wagner, CEO of mPowa said. "The ownership of smartphones and adoption of technology will be key, and with the predictions for additional growth within the sector over coming years, we aim to be an important component in the onset of mobile point of sale devices in the region.
"Telcos looking to drive revenues through increased mobile data usage are finding a solution in mPowa as they are able to do this, while at the same time offering their business customers the chance to become more flexible in how they do business. Our white label solution, which has already generated significant interest globally, will empower our partners with a simple, robust and ubiquitous commerce infrastructure that will help them to tap into areas of new business."