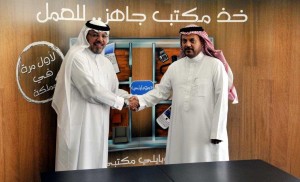 Smartworld, the Information and Communications Technology (ICT) services provider in the Middle East, announced that it has signed a Channel Partner Agreement with Etihad Etisalat (Mobily) to provide desktop management and support services as part of Mobily's 'Office In A Box Service' for its Small and Medium Enterprises (SME) in KSA by offering them the latest in communication technology from around the world.
Smartworld's chairman, Abdulla Hashim and Dr. Marwan Al Ahmadi, Mobily's CBO, signed the agreement earlier this month in Riyadh, Saudi Arabia.
As part of this agreement, Mobily will offer Smartworld's Managed and Technical Services to its SME customers in KSA. The services will come in innovative bundle offers that will add value to business sector services and are set to be announced at a later date, the companies said.
Hashim said, "Smartworld is very proud to partner with Mobily, the most innovative and fast-growing Telco in the world. Evidently this is a very significant deal for Smartworld and its shareholders. The company has also managed to break into the most lucrative ICT market of the region and has differentiated itself from local Saudi ICT players."
Dr. Al Ahmadi added, "Our continuous efforts to provide highly reliable and advanced solutions for the business sector, and solutions which provide a more flexible working environment, have facilitated this partnership with Smartworld. These services will help complete tasks in the least time and effort with less operational costs. Mobily owns an advanced infrastructure which will enable it to contribute and provide all the telecommunications services required for the business sector."