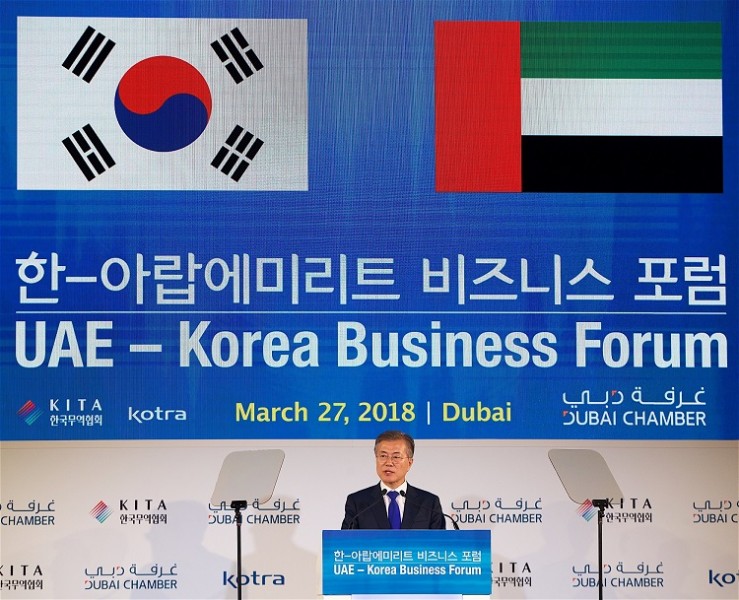 South Korean president Moon Jae-in has underlined the importance of technology and business partnerships with the UAE during his visit to the country.
Speaking at the UAE-Korea Business Forum at the Armani Hotel in Dubai, Mr Moon said that he hoped the nations could continue to expand the ways in which they can collaborate in technological development.
The Forum, organised by the Dubai Chamber of Commerce and Industry in cooperation with the Korean International Trade Association, put the spotlight on UAE-South Korea economic ties and synergies, and explored the potential for the two countries to enhance their cooperation beyond energy and construction to other sectors such as technology, security, infrastructure, healthcare, innovation and smart solutions.
"Our countries are already collaborating in the areas of semi-conductors, ship building and space development," Mr Moon said. "Both our countries have prioritised the transition into the fourth industrial revolution, and I really hope we can find more ways that we can collaborate in this change."
In his address, Mr Moon emphasised the historic and cultural ties that the UAE and South Korea share, and highlighted the important role that South Korean companies have played in the UAE's development over the years. He identified clean energy as a key area where both governments can boost collaboration and explore new opportunities.
Mr Moon explained that both the UAE and South Korean governments have adopted proactive strategies to prepare for the Fourth Industrial Revolution, and invested in space development and ICT, adding that the UAE has gone one step further by appointing a minister of artificial intelligence. He explained that these strategic moves and strengths will further advance both economies in the future.
Dubai's non-oil trade with South Korea has increased steadily in recent years, reaching $7.5 billion in 2017, accounting for a majority of the UAE's non-oil trade with the Asian country.