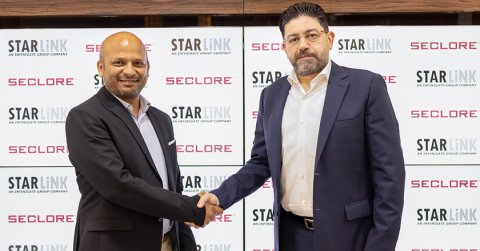 Starlink and Seclore have partnered to expand data-centric security in the MEA region. 
The two companies will collaborate to provide a more cohesive data protection architecture to enterprises in the region. Seclore EDRM Solutions seamlessly integrate with other leading Data Loss Prevention (DLP) technologies and will further strengthen Starlink's Data Protection portfolio.
The Seclore EDRM solutions are built on a Data-Centric Security Platform (DCSP) which is first-of-its kind and is designed to empower customers take a unified approach to security and compliance across hybrid environments. It automates the security processes and provides the flexibility to seamlessly integrate with best-of-breed security solutions such as DLP, CASB and Data Classification. It caters end-to-end from discovery to classification to protection and usage tracking thereby eliminating the need to chase the movement of sensitive data whether shared internally or externally, from threat adversaries.
"In this age of digital transformation, the sensitive data that resides on-prem as well as on the cloud is a gold mine for bad actors and detrimental to businesses if it falls into the wrong hands.  Our joint aim is to provide enterprises, the peace of mind required to focus on their business operations", comments Mahmoud Nimer, MEA President, Starlink. On the relationship, he expressed, "We are delighted to be Seclore's 'VAD of choice' and for the opportunity to support their MEA vision to develop and scale their business in the region. With our best-in-class on-ground expertise, extensive channel coverage and unique GTM strategy, Starlink is the best route for vendors to spark their growth".
"This strategic collaboration with Starlink presents Seclore with an unparalleled advantage in delivering cutting-edge data-centric solutions to enterprises across the Middle East. In today's landscape, the need for robust data security is more critical than ever, and the business leaders in this region possess an exceptional level of awareness regarding this challenge", states Vishal Gupta, CEO of Seclore. Expressing his thoughts on the partnership with Starlink, Vishal adds, "Enterprises place their trust in Starlink to provide them with top-notch solutions tailored to their specific requirements".
Sharing business-critical information with third parties is a high-risk factor that can lead to extended vulnerabilities. As much as businesses are built on trust, data breaches are often a result of human error. Protecting one's data is synonymous to protecting one's business which in the ever-evolving cybersecurity landscape is hugely taxing on enterprises.  Starlink and Seclore partnership will focus on helping enterprises prioritise data security as part of the core security strategy to ensure that their sensitive data is protected, at different levels, through its entire lifecycle.