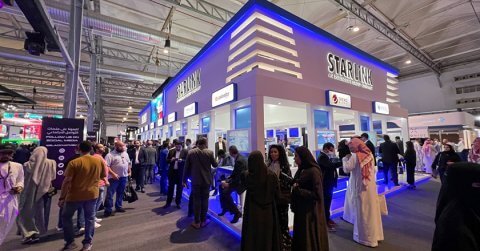 Starlink, an Infinigate Group Company, recently announced presence at Black Hat MEA 2023 as a Gold Sponsor. Once again, the EMEA VAD is all set to make a strong impact with a robust technology line up.
Black Hat MEA has evolved to become a strategic platform for the cybersecurity ecosystem in the Middle East that has played a crucial role in fostering collaboration, knowledge sharing and innovation within the industry. It has not only provided an opportunity to highlight innovative technologies and solutions but has also allowed professionals and experts to come together, exchange ideas and contribute to the overall advancement of cybersecurity practices in the MEA region. Events such as this have gained increased significance in The Kingdom and has evolved to become one of the foundational pillars of Saudi Vision 2030.
This year at Black Hat MEA, Starlink is co-partnering with 20+ leading technology leaders namely  Anomali, Commvault, Cybereason, DigiCert, Getvisibility, Imperva, Infoblox, Palo Alto Networks, Trend Micro, Ivanti, Fidelis, Forcepoint, Forescout, F5, Recorded Future, Seclore, Sophos, Symantec by Broadcom Software, Thales, Trellix, Versa Networks, to showcase their solutions and capitalize on Starlink's expertise to explore new opportunities.
Expressing his views on the Company's participation, Nidal Othman, CEO at StarLink commented, "We are incredibly privileged to actively contribute to the growth and transformation of the cybersecurity landscape in KSA. Our mission is to equip businesses in the Kingdom with cutting-edge cyber, secure cloud, and secure network solutions and to lead them on their journey towards cyber resilience. At Black Hat MEA, we will reinforce this commitment through our presence, expertise on-site, and our vast channel network, that stand as our greatest strengths".
Black Hat MEA waits in anticipation to welcome some of the most talented and innovative minds in the industry hopes to propel the digital landscape forward, question existing norms and shape the future of cybersecurity in the region.
Join Starlink and their participating vendors teams at Black Hat MEA – H3-G50: https://www.starlinkme.net/blackhat2023