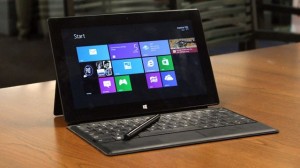 Microsoft Surface Pro engineers recently hinted at plans for a detachable battery or keyboard dock unit, during an 'Ask Me Anything' session on social media site Reddit. 
Led by Microsoft general manager and "Surface creator" Panos Panay, the team discussed aspects of the Surface Pro's design, construction, and development process, responding to questions from Reddit users.
Beyond fielding the expected questions about the battery life of the Surface Pro, which has been criticised in the first wave of reviews from US technology publications, the team also teased some information on future accessories and upgrades.
When asked about any plans for an external battery, or a thicker keyboard cover with integrated battery, a Surface engineer responded, "That would require extending the design of the accessory spine to include some way to transfer higher current between the peripheral and the main battery. Which we did…"
This not-so-subtle hint at an expanded range of accessories was joined by another comment asking about the Surface Pro's extended accessory spine pins: "…we haven't announced what they are for but they aren't an accident!
"At launch, we talked about the 'accessory spine' and hinted at future peripherals that can click in and do more. Those connectors look like they can carry more current than the pogo pins, don't they?"
These two comments point towards at least one, if not more, accessories designed to take advantage of the high-current pathways in the expanded accessory connector – almost certainly an expandable detachable battery pack, or a larger clip-on keyboard with an integrated battery slice.
It's also possible, given the downward-facing direction of the accessory connector, that a larger clip-on keyboard may include an articulated hinge to give the Surface Pro the same flexible screen adjustment of a standard Ultrabook laptop.
A keyboard of that design would simultaneously alleviate concerns about the fixed 26-degree lean-back of the Surface Pro's kickstand, and the device's mediocre battery life.
The team also defended the $899 and $999 prices of the tablet, noting that its target market was the user that "wants a MacBook Air and an iPad, but doesn't want the weight or hassle of both devices".
Other comments show that the Surface Pro's speakers are improved over the Surface RT's, a fix for unstable Wi-Fi is imminent, and that the team's main compromise for the system was in choosing an internal battery that fit in under the device's 2-pound weight threshold.
As usual, questions about availability outside the U.S. were met with the standard, simple, if frustrating response – "coming soon".