Etisalat has announced that its 'Managed Services' business was successfully accredited with the ISO 20000 certification.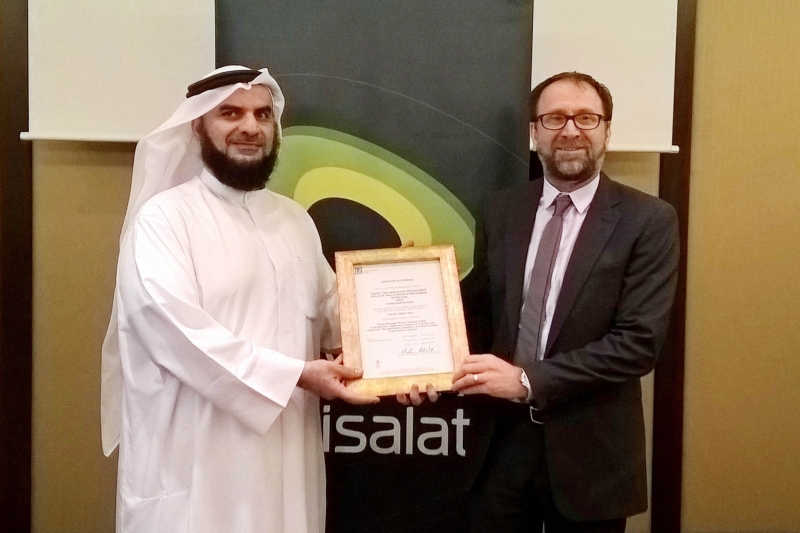 According to the telco company, the certification is an acknowledgement to its outstanding commitment to IT service quality, standards and global best practices in service management.
ISO 20000 provides a better alignment of IT services and the business building trust and confidence in customers. This is also mainly due to an integrated process approach, reduction of incidents and continuous improved incident management, improved service delivery costs leading to financial savings, greater understanding of roles and business objectives and protecting the company, assets, shareholders and customers.
Salvador Anglada, Chief Business Officer, Etisalat, said, "Etisalat is dedicated to delivering best-in-class services to our key stakeholders and customers, the ISO 20000 certification is a great way to demonstrate our core values to both new and existing customers. This accreditation is in line with our long term business objectives and functions re-assuring our clients that our services are efficient to meet their requirements.
"The certification is significant as it differentiates Etisalat within the telecom sector and this achievement also provides transparency due to the formal mechanism of reviewing Etisalat's services and to measure our commitment."
Haitham Abdulrazzak, Chief Technology Officer, said, "Etisalat has continuously invested in improving the quality of our systems and service portfolio by attaining industry accreditations in quality, business continuity, information security and environment. This has helped maintain our leadership position, demonstrate excellence and proven best practices in IT service management."
He added that the ISO qualification audit is a rigorous process by independent audit bodies implementing stringent principles to ensure that the company benchmark its operations against the highest standards to guarantee its IT service management is the best for its customers. "This certification reflects the team's hard work and complete dedication in governance of the processes and best practices required for effective service delivery and customer service excellence."