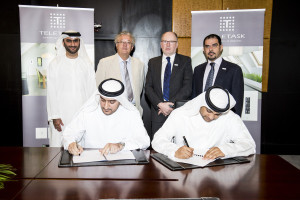 Teletask has officially opened its first showroom in Dubai's Silver Tower through its regional office in the Middle East.  
The home automation company also took the opportunity of the launch to sign a memorandum of understanding with UT Technology, a Smart City subsidiary of Etisalat.
Teletask's solutions allow customers to control things including lighting, curtains and security cameras from a control panel and although through smart devices, the app being compatible with all major operating systems.
The Demo Room will allow potential customers to sample Teletask's solutions.
The company's main offering is its eight-button AURUS-OLED touch panel, which its MAIOR touch screen comes in 10", 15" and 19" options.
Ahmed Al-Ahmed, Managing Director, Teletask Middle East, said, "Our solutions are ideal for the real estate sector, and we already have a number of development firms who are deploying our solutions.
"Teletask's main strength is its ability to save power by remotely monitoring electricity. If we are able to save a business 5 percent on their energy bill, then that makes a massive difference both on their OPEX and carbon footprint."
The Belgian firm has also set up a Middle East training centre in Dubai, which has so far seen 25 people from across the Gulf use its courses.
"We are delighted to be opening our first showroom in the Middle East and are extremely enthusiastic about the future of Teletask in Dubai, the UAE and the wider Middle East region," Al-Ahmed added. "We are confident that our expertise in smart homes and other advanced home technology will benefit homeowners in Dubai.
"Teletask has expanded its reach to over forty nations in recent years, and is now proud to be offering its world-class products to a captive new audience in the Middle East. And the decades of experience that we have accrued will stand us in good stead to meet the needs and desires of the region's population."