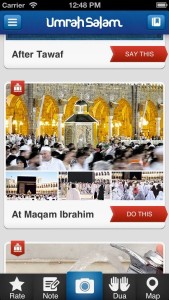 With its new mobile app, a Dubai-based start-up hopes to support millions of pilgrims every year as they complete the Umrah.
Hajjnet, the company behind the UmrahSalam mobile app, says that it can offer pilgrims real-time, location- and process-based support as they fulfill their religious duties. The idea is to provide practical help so that users can better concentrate on the spiritual side of their pilgrimage.
For example, the app will prompt pilgrims to read or hear the correct prayers in the right time or place. It will also count how many times the user has circled the Kaaba – a prerequisite of the Umrah known as Tawaf – sending a notification when the required seven rotations has been completed.
The app also features full camera, map and social media integration, according to Hajjnet.
According to the app's creators, no other app has even been able to provide such a high level of support to pilgrims.
"There was a tremendous need for an app that could support pilgrims from the moment they set about preparing throughout every step of the pilgrimage," says Ali Dabaja, CEO and Founder, Hajjnet.
"We wanted to help Muslims focus on the spiritual aspects by relieving some of the pressure of the process and logistical problems that cause so many issues.  UmrahSalam answers that need by providing a virtual guide that helps pilgrims plan their journey, track their location, say the correct Dua at the correct time and place, find their hotel, and record and access their own personal Duas."
Dabaja founded Hajjnet in January 2012. He says he was inspired by the stories of the many pilgrims that undertake the Hajj and Umrah every year, and the challenges they face in doing so. The ex-banker seeks to make Islamic faith fulfilment and travel more informed and accessible for everyone.
 "The Hajj and Umrah pilgrimages are so extremely important to many of us, not only in the region but all over the world, and we wanted to make their travels easier," he says.
"It's about making the journey safer, more personal and memorable. The purpose of this app is simply to have a better, more involved experience while avoiding possible pitfalls."
UmrahSalam is available for a limited time as a free download on the iPhone, and an Android version will be available shortly. Currently, the app is only available in English but Arabic-language version will be launched shortly.