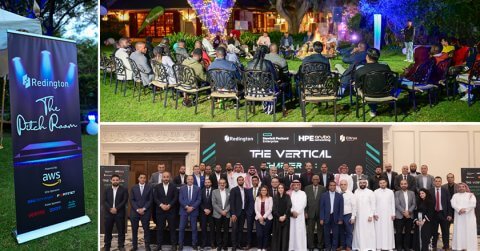 Redington, the leading technology integrator and innovation powerhouse, has successfully concluded Chapter 4 of its flagship event, 'The Vertical' in Kenya and Chapter 5 in Saudi Arabia.
'The Vertical by Redington' is a series of events that showcases tailored industry-specific digital solutions. It brings enterprise-grade technologies for supporting customers in all verticals to accelerate and grow their business in the digital age.
The next edition of 'The Vertical' will take place in Angola on 10th October, 2023 and focus on key industries.
'The Vertical by Redington' in Kenya
The Vertical's Chapter 4 in Kenya re-defined industry outcomes in the BFSI and SACCOs sectors. Prominent speakers shared insights on cutting-edge solutions that took centre stage, illustrating how technology fuels growth and elevates customer experiences. Dynamic discussions spanned regulatory landscapes, sustainability, and beyond, at the event.
The keynote address by Patrick Kiburi Kilemi, Principal Secretary in the Ministry of Co-operatives and MSMEs Development, was well-received and enriched the event with governmental perspectives.
He highlighted that as digital transformation becomes a mandate for all industries, efficiency accessibility and innovation are becoming key elements in digital strategies, even more so in the BFSI and SACCOs sectors.
Kilemi said, "Initiatives like the Hustler Fund are made possible by existing platforms such as M-Pesa and KCB. These facilitate seamless financial interactions for more than 22 million Kenyans. An astounding 7 million Kenyans borrow and repay daily through the Hustler Fund with technology playing a pivotal role in determining borrowing limits. The potential harboured by technology and innovation is nothing short of enormous, leaving us to ponder where the realm of IT will lead us".
The event was supported by Microsoft, Fortinet, Dell Technologies, DigiGlass, Trend Micro AMEA, Veeam Software, Cisco, Red Hat, and Hewlett Packard Enterprise operated by Selectium.
'The Vertical by Redington' in Saudi Arabia
The fifth chapter of 'The Vertical' in Saudi Arabia was focused on redefining business outcomes in Education, Manufacturing, Healthcare and Real Estate across the Kingdom. The exclusive closed-door event featured industry veterans, including speakers Salal Al-Namer, CTO and Chief Architect and Kshitij Saxena, Channel Sales Exec for Consumption Solutions, from HPE, to discuss how advanced technologies can empower these four sectors.
Other speakers included Ghassan Siyamak, Channel System Engineer, HPE Aruba, who shared his insights on 'The Intelligent Edge with HPE Aruba NaaS'.
Citrus Consulting's Abhinav Srivastava, Associate Director and Swapnil Shah, Manager Consulting, Cloud Citrus, discussed their positive experience with HPE in their session 'Unlocking Success with Citrus Consulting: An Insightful Journey as an HPE Partner'.
The summit was a great platform for the partner community to learn about HPE and HPE Aruba's supreme portfolio of solutions and how digital technologies can transform businesses across the Education, Manufacturing, Healthcare and Real Estate sectors.
Viswanath Pallasena, CEO, Redington Middle East and Africa, said, "The Vertical by Redington serves as a vivid showcase of the remarkable potential that technology holds to catalyse transformative changes across various industries. By harnessing the power of cutting-edge advancements, this initiative exemplifies how technology can not only bring about positive revolutions but also lead industries toward enhanced efficiency, innovation, and overall progress. We are excited to take this initiative to new locations and play an important part in shaping the technology landscape. We will have the next edition in Angola soon, and it promises to be a noteworthy event. We look forward to expanding the event on an even grander scale in the coming months".