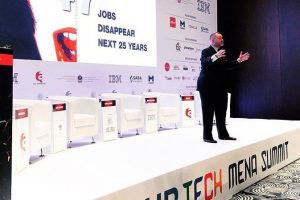 The third annual HR Tech MENA Summit has opened at Al Habtoor City's the Westin Dubai.
Organised by Dubai-based QnA International, the Summit focuses on the ongoing revolutions in the future of the work and the workplace.
This year, the Summit returns with a line up beginning with a welcome address delivered by Dr. Omar Al-Nuaimi, assistant undersecretary for Communications and International Relations, Ministry of Human Resources and Emiratisation, UAE.
There will also be a range of knowledge sharing by global, and regional organisations including IBM, Oracle, Aramex, Chalhoub Group, Emirates NBD, Dubai Airports, Emaar, Qatar Airways, GE Power, Gulf Bank, ADCB, Batelco, Omantel, and Hamad Medical Centre to name a few.
"The way in which we work, and the workplace as we know it is changing daily," said Sidh N.C, director, QnA International. "Keeping up with these changes in itself is a difficulty, much harder is the implementation of the appropriate tools. Some may wonder if these new methodologies and technologies co-opted into the workplace are applicable to this region, and to answer this, anyone needs to just look at government policies across the GCC, which promote technological adoption and localisation of their workforces.
"This change, in combination with the onset of economic policies such as the implementation of VAT, poses tough challenges for the HR sectors in the region. An answer to these oncoming challenges is technology, and at the third annual HR Tech MENA Summit, we will hear from market leaders and experts on how to best incorporate them into our workplaces."
The third annual HR Tech MENA Summit will run from 16th-17th May 2017.