The Dubai Future Foundation's new think tank the Mohammed Bin Rashid Center for Accelerated Research has received the results of its first funding programme this week, the Space Settlement Challenge.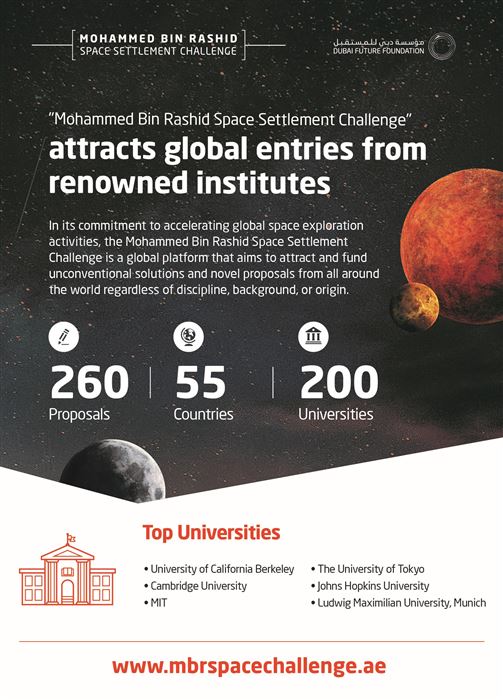 The Center, dedicated to speeding up the process of scientific research and supporting disruptive thinking on the world's most important topics, received over 260 research proposals from more than 200 leading universities in 55 countries globally. Proposals included topics ranging from advanced bio-engineering for life support on Mars to the social and economic business models required to make the space industry a success.
Khalfan Belhoul, CEO, Dubai Future Foundation, emphasised the goal of the Center, which is dedicated to supporting research for the advancement of humanity. "At Dubai Future Foundation our mandate is to identify the challenges of tomorrow and turn them into opportunities today for our nation and for humanity at large. The Center for Accelerated Research will be tackling complex issues such as space settlement, digital economics, artificial intelligence and more.
The Space Settlement Challenge was launched at the 6th World Government Summit in February 2018, with the objective of accelerating space exploration activities by funding research.
It is the first of the Center's major research activities and uses a novel, accelerated funding and review platform called Guaana, which emerged from the Dubai Future Accelerators.
The challenge called for research proposals from any discipline, in pursuit of concepts, solutions and business models that facilitate space habitation. Researchers competed for AED 2 million in seed funding, which will be divided among the 20 to 30 selected proposals.
Massachusetts Institute of Technology (MIT) and Stanford University in the United States as well as Cambridge University and Oxford University in the United Kingdom all submitted proposals for the challenge.
Applicants are currently evaluating each other's proposals and will decide the winners anonymously using an advanced system of collective intelligence. Funding decisions will be awarded on May 17, 2018, at which point the winning researchers will receive their funds automatically and begin their research.
Dubai Future Foundation CEO Belhoul said, "The Mohammed Bin Rashid Centre for Accelerated Research embodies the vision of His Highness Sheikh Mohammed bin Rashid Al Maktoum, Vice President and Prime Minister of the UAE, and ruler of Dubai when it comes to the strategic value of foresight & long term thinking, with collaborative scientific research playing a central role in advancing human progress."
The Center also announced several new upcoming research initiatives, including work focusing on the use of personal data by major technology companies, the development of regional technology sectors, the social consequences of autonomous vehicles, and more.