Dubai is gearing up to open its first smart park equipped with electric car charging stations and parking lots that can harness solar energy has come up in Al Barsha South.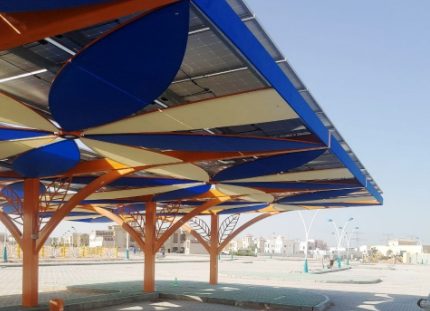 Dubai Municipality's General Projects Department has completed the construction of Al Barsha South Park, which is considered to be the first smart park in Dubai that has applied modern sustainable technologies, the civic body said in a press release.
Al Barsha South Park has 150 parking spaces with rows of solar panels sitting on top of a flower-shaped canopy protecting parked vehicles from the sun.
These solar panels will generate 260 megawatts of electricity per hour for the Dubai Electricity and Water Authority network. Renewable energy will be used to power the lights in the car park, the irrigation system, and the public toilets in the Al Barsha South Park.
Because it aims to be powered by renewable energy, it has been dubbed Dubai's "first smart park".
Marwan Al Mohammad, director of General Projects Department, said the project has been completed at a cost of Dh15 million and is spread over an area of seven hectares.
Al Barsha South Park includes two children's play areas with rubber flooring, a child's cycling track, benches, outdoor fitness equipment, an 800m running track for adults, and public toilets.
"The park was designed taking into consideration all the standards of sustainability and quality that are the basis of the design of parks, in addition to taking into account the category of the People of Determination in terms of choosing the appropriate games and ease of movement as well as the safety factor," Dubai's General Projects Department director, Al Mohammed, said.
According to reports, for the first time in the Dubai, the solar power facility that is connected to the Dubai Electricity and Water Authority (DEWA) network has been provided with a robotic self-cleaning system, which increases the efficiency of power generation.
"The energy generated from these panels is used in the operation of the lighting systems in the park, the irrigation system and electrical loads in the service buildings in the park," she stated.
For the first time, she said, Dubai Municipality has experimented with a smart control panel for the outdoor lighting systems of the park, adding a new look to the park, increasing the efficiency of lighting systems and contributing to the safety of the park visitors.