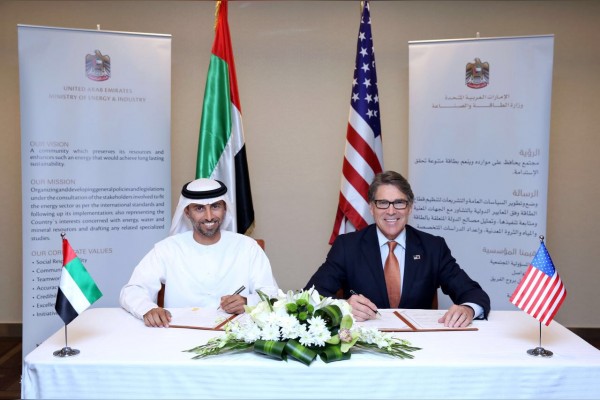 The UAE and the United States of America have reaffirmed their shared commitment to a strong bilateral relationship in the field of nuclear power and energy efficient technologies.
The commitment was made during the UAE-US Strategic Energy Dialogue held in Abu Dhabi.
Confirming the agreement, Suhail bin Mohammed Faraj Faris Al Mazrouei, the UAE Minister of Energy and Industry, and the U.S. Secretary of Energy, Rick Perry, signed a Memorandum of Understanding renewing the commitment of the two parties two parties' commitment to the Strategic Energy Dialogue.
They agreed to move forward joint efforts for expanded cooperation related to development and trade in conventional and unconventional oil, gas and coal, including liquefied natural gas; as well as to energy efficient technologies related to carbon capture, utilisation and storage (CCUS), civil nuclear energy and renewable energy.
The dialogue emphasised U.S. cooperation with the emerging civilian nuclear power sector in the UAE and the commitment of both countries to the development of safe, secure and responsible nuclear power in compliance with international agreements and commitments in coordination with the International Framework for Nuclear Energy Cooperation.
During the dialogue, the importance of addressing energy security challenges through public and private sector partnerships and investment to support the development and deployment of all forms of energy and technologies was discussed, as well as mutual bilateral and multilateral initiatives.
The two ministers also recognised the cooperative work with Masdar on energy-efficient water desalination pilot plants and with the Dubai Electricity and Water Authority (DEWA) on the first Solar Decathlon Middle East, due to take place in November 2018 in Dubai.
The reaffirmed partnership comes as the UAE's largest nuclear power plant, Barakah, nears completion.