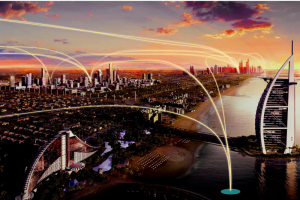 Uber has announced Dubai as one of the first partner cities in its Elevate project, the goal of which is to develop a new on-demand vertical take-off and landing (VTOL) network to enable customers in the future to get high-speed flights in and around cities at the touch of the button.
Dallas-Fort Worth will join Dubai as the first cities in the project, whose partners will include real estate companies, aircraft manufacturers, electric vehicle charger manufacturers as well as the cities.
The goal of Uber's partnerships, in both cities, is to have the first Uber Elevate Network demonstration by 2020.
In both cities, Uber is looking to develop infrastructure partnerships with local real estate companies to identify sites and construct vertiports for a future Elevate Network. Uber is partnering with Hillwood Properties for Dallas-Fort Worth and planning to partner with several real estate companies in Dubai.
Uber has also entered into partnerships with several highly experienced aircraft manufacturers who are developing electric VTOL vehicles.  With their extensive aircraft design and production experience, each of these companies bring unique expertise that will enable the shortest time to market for electric VTOLs.
"Dallas and Dubai are racing to the future and we can't wait to see how on-demand VTOL flight accelerates these great cities," Jeff Holden, Uber's chief product officer said. "What started as a simple question of 'why can't I push a button and get a ride?' has turned, for Uber, into a passionate pursuit of the pinnacle of urban mobility – the reduction of congestion and pollution from transportation, giving people their time back, freeing up real estate dedicated to parking and providing access to mobility in all corners of a city. Urban Aviation is a natural next step for Uber in this pursuit, which is why we are working to make push a button, get a flight a reality."