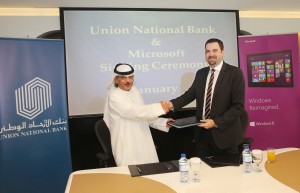 Microsoft Gulf and Union National Bank (UNB) on Monday announced a partnership that will see UNB upgrade parts of its IT infrastructure to Windows 8. UNB said that, when it is completed, the IT model will be the first of its kind in the UAE's financial sector.
"This partnership will serve as an important vehicle for business growth by giving UNB the opportunity to be the first in implementing and exploring the business benefits of Windows 8, and I am very pleased that UNB is a partner in this landmark agreement with Microsoft," said Zuhair Sulaiman, Senior Vice-President and CIO, UNB.
The implementation phase of the project began in November 2012, with Microsoft Gulf upgrading UNB's IT environment. The two firms claimed that, once they are operational, the new solutions will provide flexible work environments, faster delivery and greater reliability.
Microsoft also asserted that the solution is modular, meaning it can be scaled to meet UNB's future technology requirements.
"To reinforce its commitment, Microsoft has provided the highest level of quality assurance guarantees at all stages of the project to enable an enhanced usage experience with Windows 8," said Ziad Rizk, Commercial Sector Sales Manager, Microsoft Gulf. "We are also very pleased that, as part of this agreement, UNB will be the first bank in the UAE to roll out the recently launched Windows 8 on all its PCs and commend the bank on its innovative approach."
With its support for multi-device access and touch-screen functions, UNB believes that Windows 8 will meet its customers' needs. The bank also said that the OS's new features will bring a new technology resource to the table.